The beach look is so hot right now. From festival wear to everyday fashion, people are rockin' a tribal-inspired, hippie throwback style. For jewelry makers, hopping on this trend means making some beachy, organic jewelry to match current styles.
Hands down, hemp is the best material for the trend! Earthy and versatile, hemp can be used in many easy jewelry patterns. It has amazing texture, smells good, and is very durable. Best of all, it comes cheap. You can buy hemp for a low price at big box stores like Wal-Mart.
Hemp bracelet patterns are hippie-chic and really fun to make. Personally, I like working with hemp because it's easy to grip and it smells good. If you want a think bracelet, it's just a matter of learning some cool knots. If you want a thin bracelet, it takes barely any work at all!
Hemp bracelets are extremely gift-worthy and can be worn with simple jeans or a summer dress. Either way, they definitely capture that carefree summer mood. They're perfect for wearing to music festivals and enjoying the sunshine!
Here's our round-up of thrifty hemp bracelet patterns from AllFreeJewelryMaking.com.
10 Cheap Beachy Hemp Bracelet Patterns for Festival Season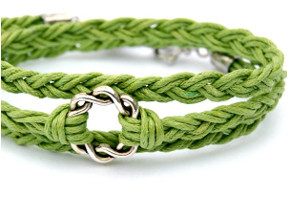 Where would you wear these hemp bracelets?