Fall is my favorite season! With apple picking, pumpkin carving, hay rides, fallen leaves, and comfortable flannel clothing, what is there not to love about fall? I can just smell the pumpkin bread and apple cider thinking about it. Fall is the beginning of football season, the time for Oktoberfest, and encompasses a "spooktacular" Halloween season. One of the best things about fall is the warm, rich colors it evokes. Autumn is synonymous with the beautiful colors of fallen leaves, pumpkins, and orchards.  From ripe reds to gleaming golds, lush oranges to rustic browns, AllFreeJewelryMaking has put together a list of fabulous projects for you in our collection, Festive Fall Craft Ideas: 28 DIY Jewelry Pieces in Fashionable Fall Colors, to help you find fall jewelry projects in all of these fabulous hues.
Fireside Red Fall Craft Ideas

Apple picking is a staple of the fall season, so it is only fitting that luscious reds are one of our favorite fall colors. Try a maroon hue like these Wrapped in Gold Earrings, or stick to a more traditional, but still ravishing hue with the other red jewelry projects for fall.


Harvested Gold Fall Craft Ideas

Fall can connote somewhat muted tones, but don't fret sparkle fans; you can still get your bling on with some glistening gold jewelry projects. The vintage raw metal leaf blanks on this Fall Foliage Necklace will shimmer and shine as you move and catch the light, just like real autumn leaves rustling and glinting in the sun. Find this and more gold projects in our colorful autumn collection.


Woodland Brown Fall Craft Ideas

Make beautiful brown jewelry pieces like this Autumn Leaves Necklace this season. Autumn is the perfect season to wear those brownish colors and still look chic!


Pumpkin-Spiced Orange Fall Craft Ideas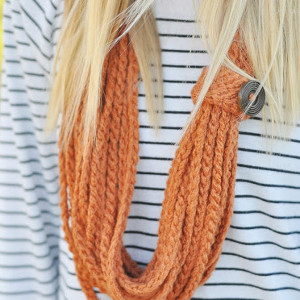 Orange is, of course, a staple of the autumn season, but not just for Halloween. You can find pumpkin-colored DIY projects that will be fashionable and fun for the whole season long in the collection of orange jewelry designs.


 What is your favorite fall color?