The stereotypical ramen noodle soup that comes in a little Styrofoam cup might be budget-friendly, but it's scarcely appetizing. But, you can make a variety of easy ramen noodle recipes that are still budget-friendly and much tastier! In fact, everyone these days appears to be experimenting with ramen! A stringy, Japanese noodle, most traditionally used in soup with proteins, such as pork, fish, or meat, ramen has become a trendy food. Both home cooks and restauranteurs are trying to come up with unique ramen noodle recipes. Ramen is a fun ingredient to eat, and it's versatile enough for use in soup, casseroles, and more.
You might have never imagined cooking ramen in your slow cooker, but it's possible and quite easy! We have some traditional and whimsical ramen noodle recipes to share from AllFreeSlowCookerRecipes.com.
Better Ways to Eat Ramen Noodles:
3 Easy Ramen Noodle Recipes

This slow cooker soup recipe for Pork and Ramen Noodle Soup is a homemade delight. This ramen noodle recipe is packed with flavor, with the inclusion of onions, garlic, ginger, shitake mushrooms, pork ribs, sesame oil, scallions and more. This Japanese ramen noodle recipe is easy to prepare, and then you can leave it to cook in your slow cooker all day. You'll come home to warm and hearty meal that's so satisfying, you can enjoy it as a main dish.


This recipe for Slow Cooker Asian Chicken Burritos surely provides a great opportunity to reinvent Ramen! East meets "South of the Border" with this fanciful and tasty treat. This easy ramen noodle recipe is budget-friendly, as it uses ingredients, such as chicken thighs, white rice and Ramen noodles. This creative Ramen recipe includes instructions for a ramen noodle slaw recipe, which is packed into the burrito, along with the chicken and rice. This rolled-up sandwich is stuffed with flavor, texture, and so much creativity!


This recipe for Asian Beef with Ramen Noodles (or "Ramen Noodle Casserole") is one of our readers' favorite recipes. This ramen noodle recipe incorporates just a few simple ingredients, such as frozen stir fry vegetables, beef stew meat (budget-friendly!), bottle stir-fry sauce, and crushed red pepper. This tasty dish can be prepared on the fly, and then let your slow cooker do all the heavy lifting!

Bonus Ramen Noodle Recipes:
If you enjoyed these fun and easy Ramen noodle recipes, we've got a few more to share with you!

Our friends at RecipeLion.com have a great collection of ramen noodle recipes that are sure to wow you! In their collection of their 11 Easiest Ever Ramen Noodle Recipes, you'll find unique Ramen noodle recipes, like this recipe for a Beefed Up Ramen Noodle Bake (shown above), along with cabbage ramen recipes, ramen salad recipes, ramen noodle slaw recipes, additional casseroles, and more!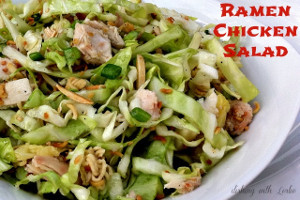 If you've never tried this Easy Ramen Chicken Salad, you're really missing out. The crunchy Ramen noodles pair perfectly with a mix of green veggies and an Asian-style dressing. It's perfect for picnics, potlucks, or even just lunch for a week. It's one of our personal favorite dishes.


Plus, check out our guide on BuzzFeed.com, 12 Not-So-Common Ramen Noodle Recipes, which includes recipes for a Ramen Burger (shown above), along with recipes for Ramen Chicken Nuggets, Ramen Grilled Cheese, Ramen Noodle "Macaroni" and Cheese, Ramen Noodle Summer Salad, and more!
Have you ever eaten ramen noodles?