It's something you always have in the house. It's something you for some reason never have enough of. It's something nobody can seem to agree on. It's toilet paper.
Toilet paper can be a hotly debated topic. Many people believe that when you place the roll on its holder, that the paper should hang over the top. On the other hand, there is a strong contingent that believe the toilet paper should hang underneath the holder. There will never be a right answer or an end to this debate; however, there is something both sides can agree upon: that these toilet paper roll crafts are adorable. Instead of throwing out your toilet paper rolls and adding more garbage to the world, make these 4 Super Cute Toilet Paper Roll Crafts instead. Everyone will be better off if you did.
Make your day even brighter with this Eco Green Tea Light Holder. This recycled craft is perfect for any event. Whether you and your loved one is just sitting down for a romantic dinner, or you are throwing a baby or bridal shower, this charming toilet paper roll craft is delightful.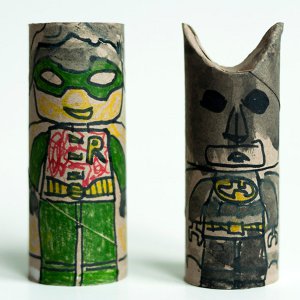 You'd be hard pressed to find any male under the age of 30 who isn't into Batman right now. With the recent movie trilogy just recently finished, along with the countless number of television shows currently airing, Batman is the one superhero every little boy loves. Using toilet paper rolls and markers, things you already have lying around the house, make your little man these Batman and Robin Tube Toys today!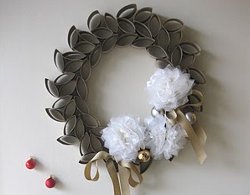 Make your home a little brighter with this Fabulous Wreath from Toilet Paper Rolls. It will cost you under $10 total for all the parts, and you can finish this craft in an evening. It will take you so little effect to put this wreath together, but you'll have a lifetime of pleasure from the joy it'll bring your family.
I still cannot get over just how precious these Curly Coiled Snakes are. It should only take you one hour to complete this adorable kid's crafts, and it is something you and your children will have loads of fun with. Make them as party favors for their next birthday, or as their next favorite toy!
Which way do you prefer to have your toilet paper rolled: over the top or underneath?