Look out, quilters—Christmas is closer than you think! Since December is one of the busiest sewing and quilting months of the year, we at FaveQuilts thought we'd try to make everyone's life a little bit easier with 5 Stocking Stuffers for the Busy Quilter! You can make these adorable little projects in just one sitting. Make sure that nobody has room for coal on Christmas morning with some of these quick and easy crafts that will put you on top of Santa's "Nice" list.
Cute and Pretty Wrap Bookmarks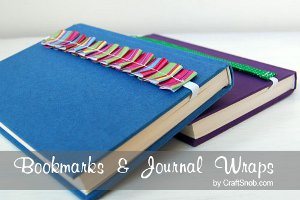 The most frustrating part of being a book lover is losing one's place! Fabric bookmarks are only as good as their functionality, no matter how pretty they may be. Luckily, you don't have to choose between form and function with the Cute and Pretty Wrap Bookmarks! These adorable little page-savers will stay in place through thick and thin. The elastic wraps around the front cover of any hardcover, paperback, or journal for a secure hold that will open to the right page every time.
 Kitten (in a Box!)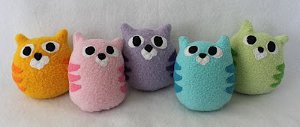 What's cuter than a kitten, curled up and sleepy and ready for bed? These small, handmade quilt gifts will easily be the most adorable toy in the stocking this year. They're fun to play with and even more fun to make, making use of all your quilting skills, from free motion quilting details to a little bit of applique. Break out the fleece and make these Kittens in a Box for some too-cute holiday fun.
 Stylish Snap Wallet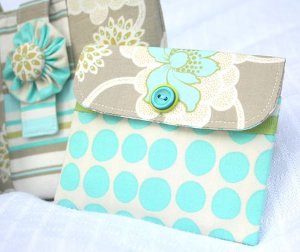 The Stylish Snap Wallet is a great stocking stuffer because it's as easy to make as it is pretty to look at! This is also a great stash buster quilt project, because the little wallet is the perfect size for any fun scraps you may have lying around. These small quilt projects are perfect for use as coin purses or a business card holder. But most importantly, they'll look great when they're pulled out of a stocking on Christmas morning.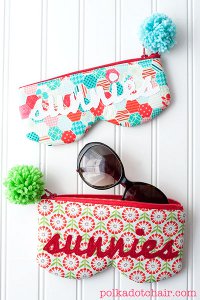 Zip Up Sunnies Case
The Zip Up Sunnies Case is one of the favorite small quilt projects here at FaveQuilts. This easy quilt tutorial will teach you how to make an awesome sunglasses case that will be a Christmas morning favorite this year. This adorable craft is perfect for teenagers or kids who have everything. They're a breeze to make and are totally unique. Personalize them with a little applique and you'll have a truly one-of-a-kind gift that will quickly become the kind of accessory that you can't leave the house without!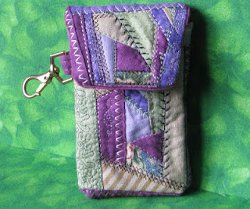 Crazy Quilt iPod Case
This nifty Crazy Quilt iPod Case is the ideal stocking stuffer. It's practical, pretty, and perfect for using up old scraps. Everyone has some kind of music player these days, and most people just shove them into purses or pockets to carry around. This adorable case ensures that no amount of bumps or bruises will come to that precious little music box.
What's the best thing you've ever found in your stocking on Christmas morning?