DIY jewelry is one of the most rewarding fields of crafting, but sometimes the price of getting your own supplies can outweigh the benefits of handcrafting that gorgeous designer piece. But don't worry if your budget doesn't allow for frivolities like hand-crafted glass beads. We've rounded up the best of our free homemade jewelry patterns for anyone who wants to make jewelry without breaking the bank. With basic jewelry tools, you can make these pretty DIY jewelry pieces from household odds and ends.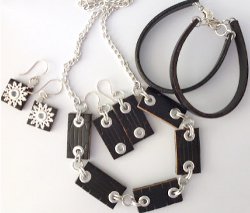 If you're going through a clothing purge, odds are you'll find an old belt. Don't get rid of it! You can make all sorts of amazing projects from an old belt, like this amazing Upcycled Leather Jewelry Set. Believe it or not, everything in this DIY jewelry set came from a recycled belt. With this tutorial, you can give your old fashion a new lease on life, for very little cost.
The Coffee Stirrer Necklace could pass for a pretty department store piece. All you need for this DIY necklace are some lengths of jewelry wire and a handful of leftover beads. And if you don't have spray paint, experiment with nail polish! This design encourages you to play with color; in fact you could make this pattern extra exciting by using different-colored beads.
If you want the look of statement pieces without straining your finances, you can't go wrong with the Necktie Cuff Bracelet. As long as you have a snap closure and old necktie, you'll have this elegant piece in no time at all. This amazing DIY bracelet is a keeper piece that looks fresh off the designer rack, and if you have extra buttons, you'll have an easy time embellishing this bracelet.
And when it comes to buttons, everyone has a stash in the house that would require weeks of sewing to use. Why not make some adorable DIY jewelry with them instead? The Cute Cascading Button Earrings are a great way to use up those pretty colored buttons that you can't bring yourself to throw away.
A bit of wire is all you need to make these amazing Chunky Charm Necklaces, which can be made from small mementos of all kinds. Make one in any theme you want, depending on what you have on hand. Use buttons, beads, gears, and more to make a truly unique necklace.
The Thrifty Chevron Earrings are a dream come true for crafters on a budget. Using bobby pins and nail polish, this DIY earrings tutorial gives you chic glamor for almost no cost. You can use any colors you have on hand for this fabulous design, and these cute earrings will grab compliments wherever you wear them.
For even more jewelry you can create from home, check out our thrifty and recycled projects!
What household item would you turn into jewelry?