There's less than one week until Thanksgiving, and many quilters have found themselves still searching for the right table decor. The editors at FaveQuilts realize how stressful things will be in the next week, so we've rounded up some of our favorite table runner patterns that only require a few hours to make.
Quick Patchwork Thanksgiving Table Runner
With classic autumn tones, the Quick Patchwork Thanksgiving Table Runner pattern will pop with accents of bright colors that complement the dark, solid linen used. This is one of the best options for beginner quilters still working on their piecing techniques.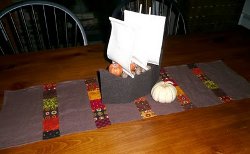 Pumpkin Table Runner
Many fall-inspired quilted table runner patterns have themes that will look right at home on a Thanksgiving table. Nothing helps to celebrate a plentiful amount of food than the harvest pumpkins on the Pumpkin Table Runner that you can piece together and embellish with spiraling free motion quilting patterns. A design like this can be used all season long, so you'll be saving yourself time, money, and fabric by making one.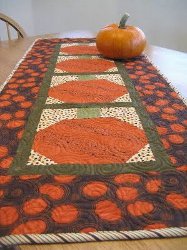 Two Hour Terrifically Thrifty Table Runner
Need a pattern that's guaranteed to only take a small amount of time? Then you need to try the Two Hour Terrifically Thrifty Table Runner, the design that is flexible with the fabric you use. Combine scrappy holiday prints or your favorite designs (layer cakes are best here) into a really simple style similar to tumbler blocks. The finishing touches will make the pattern stand out even more, so challenge yourself to come up with a really eye-popping pattern to dress this up.
Simple Autumn Table Runner
If you're really behind or don't want to spend extra time piecing together individual blocks and sections to make your table runner, find your most decorative fabric and try the Simple Autumn Table Runner tutorial, which will show you how to trim the fabric and add backing and batting to that fabric. There's minimal cutting and plenty of opportunities to dress up the design with the placement of your lines.

Elegant French Lilacs Table Runner
Just as there are table runner patterns with more general fall themes, there are also table runners that can suit the home decor you have in your home during the rest of the year. For example, the Elegant French Lilacs Table Runner has a refined floral design offset with deep violet fabric that creates a regal, fresh appearance, perfect for both special occasions and times when you simply want to add a little extra class to your table decor.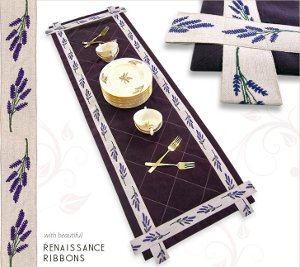 Golden Days Fall Table Runner
Get ready for crisp fall weather by designing the perfect piece of DIY fall home decor. This Golden Days Fall Table Runner is a great way to use up your fat quarters in shades like golden yellow, pumpkin orange, and vanilla latte. With this free table runner tutorial, you can design traditional maple leaf blocks to piece together to create some festive and completely charming home decor.
What's your design style?