It's spring, it's spring! Sure, you want to keep crocheting, but you need extra cash for all those outdoor concerts, botanical gardens, festivals and craft fairs. Maybe it's time to—gasp—cut back on the yarn splurges? I know, this is crazy talk.
But take a look at your stash. You probably have some very pretty yarn there, just waiting to be used up. One skein crochet patterns are just the thing for spring! Not only will they help with spring cleaning by using up your stash, but one skein projects are also extremely easy to do on-the-go. When you want a mindless task as you sit out in the sun, you can make fingerless gloves, a light scarf, a spring hat, and more!
If you're working up lots of baby shower gifts this spring, you might need a little break from all the baby hats. Another great thing about one skein patterns is that they can be easy and mindless so that you can relax and enjoy crocheting instead of worrying about switching colors or making a perfect gift.
At AllFreeCrochet.com, we have a ton of one skein patterns to keep your hook busy. Give 'em a try to give your wallet a spring break!
8 One Skein Crochet Projects for Spring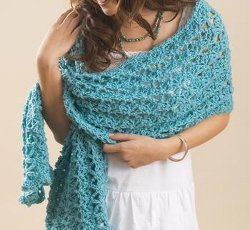 One Skein Wonder Fingerless Gloves
Where's your favorite spot to crochet in spring? Let us know below in the comments!