Just because you do your best to avoid the oven in the summertime doesn't mean that your sweet tooth has to suffer! Now you can satisfy your sugar cravings without breaking a sweat. Here you will find out best no-bake dessert recipes that are perfect for hot summer days.
To make sure that you never miss another budget project or recipe, click here to find out how you can sign up for our free Cheap Eats and Thrifty Crafts newsletter. With just a few clicks, you can have projects and recipes like these delivered to your inbox every week!
No-Bake Treats for Summer: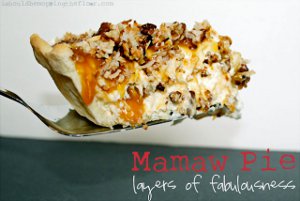 1. Mamaw's Guilty Pleasure Pie (pictured)- This unbeatable pie is made with coconut, pecans, cream cheese, whipped topping, caramel and more! You'll relish every single bite of this guilty pleasure dessert. Make this dessert entirely no-bake by using a prepared graham cracker crust.

2. No-Bake Blueberry Cheesecake Bars -It doesn't get much simpler than this recipe for No-Bake Blueberry Cheesecake Bars. Switch things up by making these cheesecake bars with your favorite fruity pie filling.
3. Cool Whip Pie – You can make this recipe for Cool Whip Pie in less than half an hour! You can't beat this budget-friendly dessert recipe.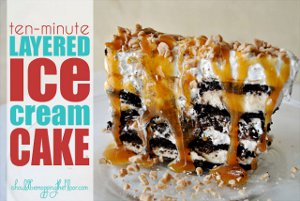 4. 10-Minute Layered Ice Cream Cake (pictured) – This 10-Minute Layered Ice Cream Cake is the ultimate frozen dessert. This ice cream cake recipe is the perfect warm-weather indulgence.

5. No-Bake Chocolate Pie  – No one will be able to resist this rich and decadent chocolate pie. This elegant chocolate pie makes for a great special occasion dessert.

6. 7-Up Jell-O Salad – Lemon Jell-O is mixed with pineapple and 7-Up to make the base of this "salad". It is then topped with light and fluffy pineapple mousse. Every bite of this no-bake dessert is sweet and wonderful.
How do you stay cool during the summer?