Ask anyone: I'm probably one of the world's largest Marvel Cinematic Universe/Avengers fans. I have Marvel Funko figures all over my desk, a giant paper Groot (from Guardians of the Galaxy in a corner, and have at least one piece of Avengers paraphernalia on my person at all times (usually my super awesome Captain America phone case). If I could somehow leave this world and live in the MCU, I would probably do it in a heartbeat.
I mean, aside from the mortality rate and scary threat of robots and technology that can think for themselves, this Avengers: Age of Ultron trailer makes the universe preeeeeeetty cool.

But, because I'm not able to suddenly become a fictional superhero character in my favorite comic book universe, I have to settle for constantly listening to movie soundtracks, having movie marathons, attending "midnight" movie premieres, and making superhero crafts in honor of Earth's mightiest heroes.
If you're a fan of crafting for your favorite movies and whatnot, hit play on this Avengers playlist and check out all of the best superhero crafts to help get you excited for Avengers: Age of Ultron (as well as everything else going on in the Marvel universe at the moment)!
Fun Iron Man-Inspired Projects
Iron Man Granny Square
Printable Iron Man Paper Crafts from CubeCraft
Super Cheap DIY Tony Stark Arc Reactor from booturtle.com
Iron Man Gloves
Lil' Iron Man Crochet Pattern from Little Yarn Friends
Patriotic Captain America Crafts
Captain America's Vibranium Shield
Captain America Tie Dye Tee
Captain America Gloves
Captain America Paper Crafts from CubeCraft
Captain America Cozy
Captain America Mask
Incredible Hulk Projects
The Hulk Amigurumi from CrochetBot 3000
The Hulk Goody Bag
Incredible Hulk Toilet Paper Craft from DLTK's Crafts for Kids
Hulk Rainbow Loom Action Figure from PG's Loomacy
Nifty Thor Crafts
Thor Paper Craft from CubeCraft
Thor's DIY Hammer – Mew mew!
Make Your Own Pocket Thor from Over the Bifrost
The Best Avengers Superhero Crafts
Avengers Assemble Fingerless Gloves
Superhero Comic Book Magnets from Crafts by Amanda
Comic Book Style Superhero Pillow from Cherished Bliss
Marvel's Avengers Paper Crafts from Paper Heroes
Avengers Bookmarks
"Keep Calm and Assemble" Needlepoint Pattern from FYeahMarvelCrafts
Avengers Charts from The Happy Hooker Blog
"Eggvengers: Age of Yolktron" Printable Egg Costumes
Easy DIY Gathered Fabric Avengers Skirt from Set to Stunning
Avengers Lamp Redo Tutorial from A Girl and A Glue Gun
While he's (unfortunately) not a part of Avengers: Age of Ultron, I know I'm not alone in saying that I still love Loki. Paper Heroes has a pretty great printable Loki paper craft!
Oh, and just for good measure, here's my favorite Dancing Baby Groot Crochet Pattern!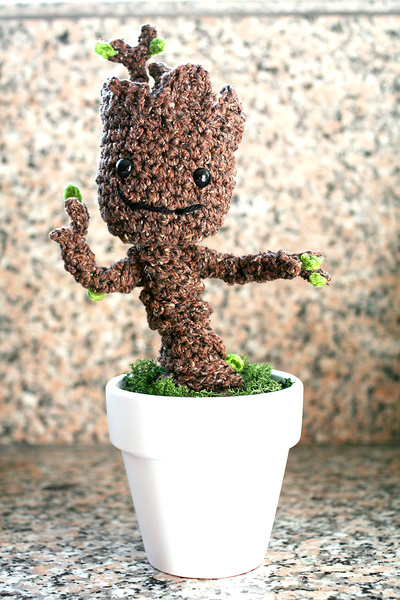 Note: Sadly, there weren't all that many Black Widow or Hawkeye crafts that I could find, so, if you know of any, feel free to link to them in the comments!
Who's YOUR favorite Avenger?
(I'm totally a Steve Rogers/Captain America fan, although I do love me some Black Widow…)

Related: Addictively Easy Printable Paper Crafts to Make Today