The Fourth of July is the epitome of summer: warm weather, good food, and great friends all around. This year, make it even better by staying on budget and creating not only your own burgers but also your own decorations. Make this an Independence to remember with these cheap crafts and easy to make recipes. You don't have to sacrifice anything when keeping to a budget.
To make sure that you never miss another budget project or recipe, click here to find out how you can sign up for our free Cheap Eats and Thrifty Crafts newsletter. With just a few clicks, you can have projects and recipes like these delivered to your inbox every week!

Cheap Crafts
Give your flip flops a whole new look for the summer with these adorable Dollar Store Flip Flop ideas.  From glow in the dark flip flops to easy survivor style crocheted flip flops, these cute ideas are easy to make and are easy on the budget!
The stars and stripes are about as American as you can get. These 3D Felt Stars are festive and will be a perfect finishing touch to your Fourth of July party.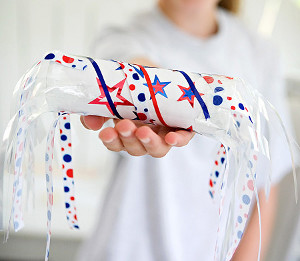 Celebrate the 4th of July with a crash, boom, bang! Firecracker Shakers will help to bring your party to the next level since these red, white, and blue crafts jingle all the way. 4th of July kids' crafts are great for keeping the little ones busy while you barbecue and enjoy the sunshine.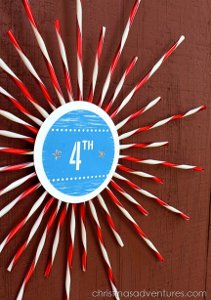 With these July 4th crafts, every aspect of your celebration will be shimmering with American spirit. Each project is inexpensive, easy-to-make, and looks or tastes phenomenal. No matter what you like, there's a 4th of July craft for you in this list of 15 American Craft Ideas for 4th of July.
Cheap Foods for the Fourth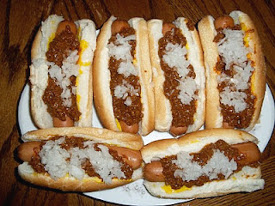 This recipe pays tribute to the infamous Coney Island hot dog. Topped with chili and raw onions, this hearty hot dog recipe is so good there's a reason why it's famous.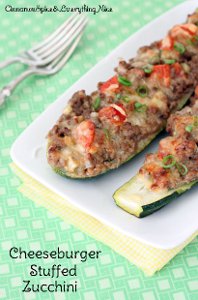 What's better than a good old ground beef recipe? A ground beef recipe that includes beautifully nutritious zucchini! This Cheeseburger Stuffed Zucchini recipe is budget-friendly and a great weeknight meal for the whole family. Even the picky eaters will like this one.
Be sure to check out all the awesome patriotic crafts on AllFreeHolidayCrafts.com's Pinterest Board. You'll find even more great, cheap crafts for your Fourth of July festivities.
What is your favorite thing to eat on the Fourth of July?