'Tis the season for blueberry desserts! Summer is the best time to make these sweet and fruity treats because blueberries are in season (which also means that they're as affordable as ever)!
I don't know about you, but I always shy away from buying cartons of blueberries when they're out of season because they're just so expensive, especially for the tiny cartons that they come in. Not only that but frozen blueberries are almost equally expensive. So whenever summer/blueberry season rolls around, I buy up as many cartons of blueberries as I possibly can.
However, buying as many berry packages as I can comes with a few problems, the main one being that it's hard for me to eat that many blueberries by myself. So, like every other dessert and sweets enthusiast, I bake them into delicious treats to share with family and friends. From pies to breads (and everything in between), you name it, I've baked it.
There are quite a few great blueberry dessert recipes on TheBestDessertRecipes.com that you need to check out. They're so easy to make and they won't break the bank! What could be better than that?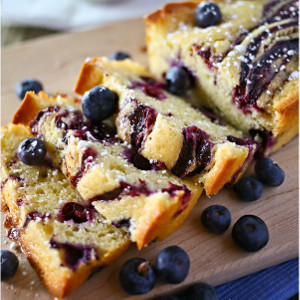 Blueberry Walnut Bread
This is an easy quickbread recipe that you can make in no time at all! It's perfect for the summertime.
Blueberry Swirl Pound Cake (pictured right)
This is one of the most dense and flavorful blueberry desserts you'll ever taste. Seriously, it's SO good.
Blue Ribbon Blueberry Cobbler
You've never tried a blueberry cobbler recipe like this. It'll soon become a popular family-favorite.
Glazed Lemon Blueberry Cake
Blueberry dessert recipes like this tasty cake always taste a bit better with some lemon flavor!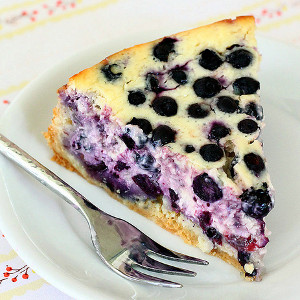 Blueberry Pie Bars
Craving blueberry pie but don't want to make a whole pie? Then you'll love these dessert bars.
Blueberry Cream Cheesecake (pictured right)
This creamy dreamy dessert recipe has a wonderful purple color to it thanks to all of the fresh blueberries.
Fresh Blueberry Pie
Recipes always taste better with fresh ingredients, including this tasty pie.
What are some of your favorite blueberry dessert recipes to make during the summer?