Living on a tight budget requires a LOT of planning, especially when it comes to the weekly trip to the grocery store. Not only are you scouring the local ads for sales, but you're trying to plan meals that use similar ingredients, so nothing ends up going to waste. On top of all of that, you want to provide your family with home-cooked meals because—let's face it—no one wants to get stuck with a regular bowl of cereal every morning and packet of Ramen noodles every evening.
Therefore, I decided to set myself a challenge. My goal: create a meal plan for a family of four but only spend $10 per day per person. The plan needed to include three home-cooked meals with minimal substitutions. For my challenge, I decided to refer to an online grocery service called Peapod, which would hopefully reflect prices one might find at his or her local grocery store. You may find some ingredients to cost more, while others may cost less. With that being said, let's begin.
Breakfast: Cookie Cutter Toad-in-the-Hole (doubled)
I decided to start out with a basic yet filling egg breakfast. This budget-friendly recipe doesn't require many ingredients, and we're going to find recipes to use the eggs and bread again, so nothing goes to waste! With a total of only $5.38, we're already off to a fantastic start in this budget challenge.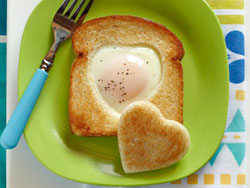 Ingredients:
4 slices white or whole wheat bread
4 teaspoons olive oil
4 eggs
Salt and pepper
Shopping List:
1 dozen eggs —> $1.69
1 loaf of bread —> $1.00
1 17-oz bottle olive oil —> $2.69
Total=$5.38
Lunch: Monte Cristo Sandwiches (halved)
I wanted to use a recipe for lunch that would use ingredients from both breakfast and dinner, and this seemed like a happy mix of both. I did need to make a substitution in my recipe to adhere to my budget. Instead of using egg bread like the recipe calls for, I decided to use the remainder of my breakfast loaf of bread, saving me $4.69. Easy substitutions like that can really help keep your budget on track, so make sure to keep an eye out for simple tricks to save those pennies.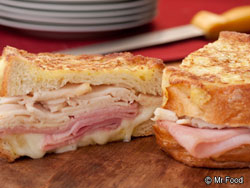 Ingredients:
3 eggs
1/4 cup milk
1/4 pound thinly sliced deli turkey
1/4 pound thinly sliced deli ham
4 (1-ounce) slices Swiss cheese
8 slices egg bread (challah)
2 tablespoons (1/4 stick) butter
Shopping List:
Eggs —> Already have
1/2 gallon milk —> $2.49
2 2-oz. packages sliced deli turkey —> $0.99 each
2 2-oz. packages sliced deli ham —> $0.99 each
1/2 lb. (8 0z.) sliced Swiss cheese —> $3.49
8 slices egg bread —> Substitute for white bread
8-oz tub butter —> $2.69
Lunch total=$12.63
Combined meal total=$18.01
Casseroles are one of our favorite kinds of meals to make when we're looking to save money, so this deli meat version seemed like the perfect fit for our budget challenge. My original budget shopping list had included buying two 1/2-pound deli turkey packages and two 1/2-pound deli ham packages because the unit price was smaller in bulk. When I realized I was going to have excess deli meat, I decided to instead purchase 1 1/2-pound deli meat each and 2 2-oz packages of deli meat each. If you're planning to use deli meat in other recipes, purchasing based on the lowest unit price is likely the best option. However, if you're not going to use the extra ingredients, then don't purchase them! There's no need to buy in bulk if you aren't able to use the ingredients before they go bad.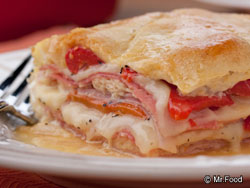 Ingredients:
1 (8-ounce) container refrigerated crescent rolls
8 slices deli turkey (about 1/2 pound)
8 slices deli ham (about 1/2 pound)
12 slices deli hard salami (about 1/2 pound)
8 slices Swiss cheese (about 1/2 pound)
1 (12-ounce) jar roasted peppers, drained
4 eggs, beaten
Shopping List:
1 8-oz container refrigerated crescent rolls —> $2.19
1/2-lb. deli turkey —> $2.99
1/2-lb deli ham —> $3.49
1/2-lb Swiss cheese —> $3.49
1 12-oz. jar roasted peppers —> $3.79
4 eggs —> Already have
Dinner total=$15.95
Combined total=$33.96
Once you factor in tax, the total comes out to about $35.66, leaving you with $4.34 to spare. With the leftover cash, I recommend buying some veggies to steam on the side to help balance out your meals. While it was tricky sticking to my budget, by choosing recipes with like ingredients, substituting ingredients when necessary, and only buying the amount of food that I needed, I was able to save money without sacrificing homemade meals.
What are your best grocery shopping tips on a budget? Let us know in the comments below!