Spring is in the air and soon butterflies will be too! I love looking at all of the blooming flowers and seeing cute little butterflies hovering above them. Because of the area where I live, however, I don't get a chance to see the winged beauties all that often. Good thing I have butterfly crafts to keep me occupied.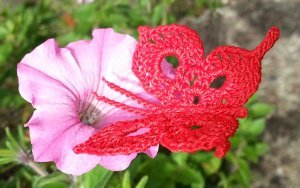 Imitation is the highest form of flattery, right? So, by making so many butterfly crafts, I'm essentially giving a million compliments to butterflies. That's how I like to think of it. When it comes to spring crafts, butterflies are at the top of the list (just like ornaments are at the top of the list for Christmas crafts, for example). Sure, I love doing bunny crafts in the spring too, but butterflies are my #1.
I think the kind of sad part is that, if given the supplies for a butterfly-themed craft, I'd probably end up cooping myself up inside and doing it rather than going outside in the sunshine and enjoying nature. I'd probably at least sit myself near a large window, but still. I could craft outside, but the wind has never been my friend. Plus, does anyone really ever do intense craft projects in the great outdoors? I'm legitimately curious…
Anyway, butterfly crafts. I love them and I'm hoping that you do to. They make for the perfect spring endeavor. From spring crafts for kids to easy crochet patterns, there's a wide variety of projects that we all can make in celebration of one of the world's most beautiful creatures.
Vintage Butterfly Magnets
Butterfly Suncatchers
Pretty Butterfly Pins
DIY 3D Butterflies iPhone Case from …love Maegan
Alice Brooks Butterfly Block
Spring Fling Butterfly Wall Art
Butterfly Summer in a Jar
Cascading Butterflies Mobile
The Easiest Butterfly Crafts
"You Set My Heart Aflutter" Butterfly Notebooks from Pink Stripey Socks
Ruby Red Butterfly
Monarch Butterfly Symmetry Art
Beautiful Butterfly Applique
Butterfly Bobby Pins
Luminous Blue Butterfly from Sew French
Recycled Paper Butterfly Garland
Crazy-Colorful Butterfly Craft
3D Butterfly Birthday Card
Crystal Butterfly Necklace Tutorial
Glittery Butterfly Earrings
Butterfly Garden Globe
Origami Butterfly Teabags from Bit Square
Very Easy Crochet Butterfly
3D Butterfly Blanket
Butterfly Night Table Doily
Quick Crochet Butterfly
Silk Yarn Butterfly Scarf
Cute Clothespin Butterfly Crafts
Can't get enough butterfly spring crafts? Here are a few more to check out!
1.
29 Beautiful Butterfly Craft Ideas
2.
18 Butterfly Crochet Patterns for Spring
3.
22 Butterfly Decor, Craft, and Gift Ideas
When it comes to spring crafts, do you prefer making butterfly crafts or flower crafts?