One of our favorite ways to cook on a budget is to use some tried-and-true dollar store ingredients: canned soups. We bet if you look in your pantry, you've got a few cans of regular ol' tomato soup just sitting there untouched. If the thought of heating up one of those cans bores you to tears, you've got nothing to worry about 'cause the Mr. Food Test Kitchen has 7 fabulous recipes that'll help put those pantry staples to use in a delicious recipe.
Amish Country Casserole: No one does cooking better than the Amish. With their down-home good taste and simple recipes, this tomato soup casserole is one of our favorites.
Our Own French Dressing: Homemade salad dressing always tastes so much better than anything in a bottle. Serve it up at a backyard gathering this summer, and your guests won't be disappointed!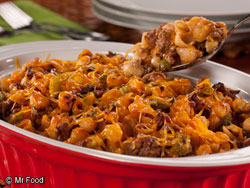 Chop Suey Pasta: We don't know about you, but sometimes we love making casseroles that are like an organized mess. Take this tomato soup recipe and make it your own!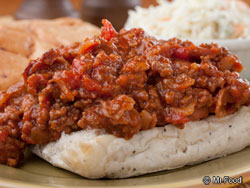 Sloppy Joes: We know the kids are gonna love this homemade tomato soup recipe. Sloppy Joes are a cafeteria favorite that'll fit right in with your budget-friendly meal planning.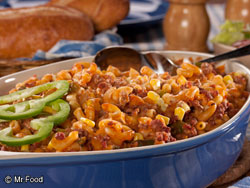 Hillbilly Pasta Bake: This loaded 'n' hearty recipe is sure to fill up the entire gang with plenty leftover. The combination of pasta and ground beef is easy on your wallet and tasty to boot!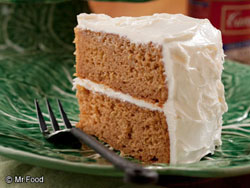 Tomato Soup Cake: Cake? Made with tomato soup? Yes, you read that correctly! Change things up and see how that can at the back of your pantry can turn into an irresistible dessert.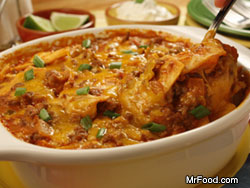 Beefy Taco Bake: All you need are 6 ingredients to make yourself a casserole that'll feed your entire family (while staying within your budget). Plus, it only takes 30 minutes to bake, so you'll be in and out the door in no time.
Don't you love being able to use those cans of condensed tomato soup that are just sitting in your cupboard? Sometimes eating on a budget isn't about buying cheap food; it's about reinventing the ingredients you already have.
What's your favorite way to reuse pantry staples? Let us know in the comments below!