We're all busy trying to stick to our resolutions this January (even if only for a month). If one of your resolutions for 2014 included shopping more frugally, your grocery list is a great place to start. It's best to plan your meals for the week ahead of time, because you can then make a focused list of what you need to buy, and you won't be meandering around the grocery store, pulling items from shelves based on cravings and whim.
At AllFreeSlowCookerRecipes.com, we have some tasty slow cooker recipes that also happen to be 5 ingredients or less dinner recipes. We're excited to share with you five slow cooker recipes with 5 ingredients or less. With fewer ingredients, you'll spend less on meals, and your New Year's resolution will be easily fulfilled.
5 Slow Cooker Recipes: 5 Ingredients or Less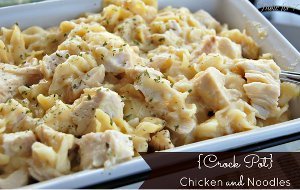 This slow cooker chicken casserole recipe for 5 Ingredient Chicken and Noodles not only has five simple ingredients, it also serves eight people! Thus,  you can serve it to a crowd, or have leftovers for a second meal–now that's budget-friendly!
This simple slow cooker pork chop recipe for 3-Ingredient Pork Chops for 4 requires three easy ingredients, five minutes of time to prepare, and a little love. It's certainly inexpensive to serve a family of four a meal with three ingredients!
It only takes five ingredients to make this delicious potato casserole that can be served as a side dish at breakfast, dinner, potlucks or holiday meals. This slow cooker casserole recipe for 5 Ingredient Cheesy Potato Casserole is a sure-fired hit. Not to mention, this dish serves eight, which makes it a budget-friendly choice.
This all-day slow cooker beef recipe for 5 Ingredient Ranch Seasoned Beef might be simple to make, but it's so tasty! Ranch seasoning, garlic, and onion give this beef a triple-flavor-punch.
You can't go wrong with this easy slow cooker chicken recipe for 3 Ingredient Slow Cooker Fiesta Chicken. Chicken, salsa, and cheese soup make this chicken dish creamy and savory. Serve it up with rice or potatoes for a complete meal.
For more five ingredients or less recipes, check out this free eCookbook from RecipeLion.com, 5-Ingredient Recipes: 21 Easy Dinner Ideas with 5 Ingredients or Less. Inside, you'll 21 printable recipes to try at home.
Which of these recipes will you try first?