You can never have too many cheap and easy casserole recipes in your wheelhouse (aka your recipe book). They make for the best weeknight dinners as well as potluck-pleasers. They're so simple to throw together that, even if I've had a long and tiring day at work, I always have enough energy to whip up a casserole.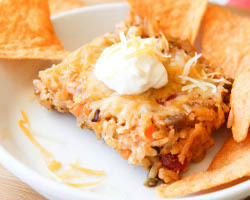 Seriously though. I get super lazy after work and don't want to lift a finger to even put my shoes or jacket away, and yet I'm totally fine with cooking up casseroles. Strange, I know.
If you've been a fan of our blog for a while, you're probably already aware of how often we sing the praises of easy casserole recipes. But if you recently discovered our blog (welcome!) or you need a bit of a refresher on all of the casseroles you could ever possibly make, I thought now would be a good time to do a round-up of all of the casseroles we've ever featured.
Browsing through all of these collections may be a bit time consuming, but baking up these easy casserole recipes certainly won't be. In fact, it'll probably take you less time to make these bakes than it will to go through all of them and pick out your favorites.
Related: So Many Recipes With Five Ingredients or Less, So Little Time (Round-Up)
Bonus: Dessert casseroles!

If you're hooked on casseroles and want even more recipes, check out one of our casserole Pinterest boards! We're finding delicious new recipes every single day. 🙂
Have you tried any of these easy casserole recipes before? How did they turn out for you?
Related: Twenty Reasons to Make Bisquick Your New BFF