Spring is just about here and I, for one, couldn't be more excited! I love that I'm starting to finally see the ground (rather than piles of snow) and, unless I've lost my mind a bit, I think I've heard a few birds singing! Nothing gets me in the mood to start new easy crochet patterns more than spring.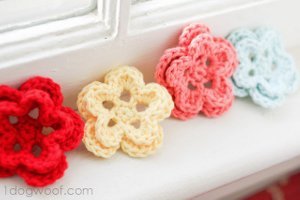 There's just something so light and fun about all spring crafts, but especially crochet projects. No longer do I have to worry about my crochet projects being warm enough to survive the tundra outside my front door. Now I can make whatever I want (especially a few lightweight crochet scarves) and, if it's clothing or an accessory, wear it whenever I want because spring can be both warm and chilly!
I don't know if it's the long miserable winter that has made me so excited for spring or if I genuinely like spring as a season. All I know is that the sun is shining (which definitely makes me feel more awake and motivated to do some crafting), we're moving our clocks forward this weekend (don't forget!), and the temperature is slowly increasing. Oh, and also that I'm generally happier because of all of these wonderful things. So hooray for spring and hooray for these easy crochet patterns!
Beautiful Spring Cowl and Crochet Scarf Patterns
Kelly Green Spring Scarf
Ripe Red Spring Cowl
Breath of Fresh Air Scarf
Enchanted Orchid Cowl – So classy!
Single Skein Spring Cowl
Spring-y Crochet Applique and Critter Patterns
Spring Chick Applique Pattern
Pansy Crochet Flower
Easy Crochet Flower – You can put this on anything!
Bumble Bee Applique
Five Petal Crochet Flower
Spring Bunny
The Perfect Crochet Afghan Patterns for Spring
Bright Ripple Throw – Just look at all the colors! 🙂
No Beginning Chain Asyemmetric Shell
Calypso Wave Afghan
Pastel Rainbow Baby Afghan
Springtime Stripes Afghan
Shell and Wrapped Stitches Blanket
Other Delightful Crochet Patterns for Spring
Lightweight Garden Hat
Goddess Rose Crochet Headband
Quick Flower Hat
Super Simple Flower Coaster
Lovely Lacy Bolero – LOVE this. It'll go with pretty much anything!
Cool Spring Crochet Hat
What are some of your favorite crochet patterns for spring?