There are some awesome foods that you only get to have at church potlucks! Every community has those individuals who show up to every potluck with their 'special' offering, and though you might not eat watergate salad in your everyday life, you can't help but dig in! (Like when Laura shows up with her infamous golden rolls.) It's partly nostalgia, and partly appreciation for home cooking besides your own.
However, at potlucks it's easy to get a case of 'potluck paranoia.'
Potluck paranoia: Also known as the 'potluck willies,' may be experienced by some individuals who are uncertain of food preparation methods, sanitation, and unknown ingredients.
It's totally understandable why anyone would feel this way! No one wants to get sick, and you want to know how your food is prepared. However, you can combat potluck paranoia by using these church-approved recipes. These time-tested classics make it easy to feed a group on a budget. Best of all, they're recognizable enough that everyone will want to eat them! You may just find your all-star recipe that you'll bring to every potluck.
Here's our round-up of church-approved recipes for your next potluck, gathering, or Sunday social!
10 Church-Approved Recipes for Potlucks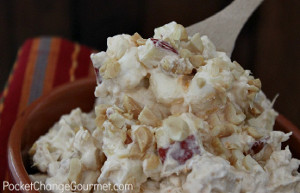 What's your favorite church potluck recipe?