Print This Post
As Ned Stark famously said on the HBO television program Game Of Thrones, "Winter Is Coming." Well Ned Stark, unfortunately, winter is already here, and it does not look like it is going anywhere anytime soon. Despite what the Groundhog told us on February 2nd, winter is still here. It is still biting cold outside and snow still continues to fall. However, there are advantages for this awful weather we are having— we get to have Clean Out The Pantry Slow Cooker Chili! You do not need to leave your house, because you already have all of the ingredients already for this chili. It is a good thing you don't have to leave because chances are you are snowed in or it is too cold to leave anyways. No cost chili that tastes great? Count me in!
Clean Out The Pantry Slow Cooker Chili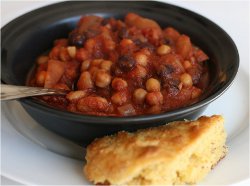 Ingredients
2 (6 ounce) cans of tomato paste
3 cans of beans, drained and rinsed (preferably garbanzo, white kidney, and black)
1 tablespoon of Italian seasoning
1 chopped yellow onion
2 cloves of chopped garlic (or about 2 teaspoons of minced garlic)
2 cups of vegetable or chicken broth
2 (heaping) tablespoons of sliced jalapenos from a jar or can
Instructions
Open all of the cans. Rinse the beans and then dump them into the slow cooker

Add the tomato paste, Italian seasoning, onion, garlic, broth, and jalapenos on top of the beans
Cook on LOW for 8-10 hours
This recipe is extremely simple to make and we are sure you already have all of these ingredients right in your own pantry. Click here to check out more fantastic slow cooker chili recipes.
Have you ever entered a recipe into a Chili Cook Off? Let us know in the comments below!
AllFreeSlowCookerRecipes is dedicated to the best slow cooker recipes and cooking tips. From easy slow cooker dinner recipes to slow cooker dessert recipes with cake mix, we find and deliver the best slow cooker recipes from all over the web. Plus, we feature free product reviews and giveaways of all the latest and greatest products including slow cookers, cookware and cooking gadgets of all sorts, cookbooks, food, and more. AllFreeSlowCookerRecipes is a wonderful online resource for cooking enthusiasts of all skill levels.
Print This Post