Let's get crazy for a minute. Crazy about cake. I'm not talking about elaborate cakes with ten layers, a filling, and decorations. I actually mean the opposite of all that. A crazy wacky cake is "crazy" because of what it lacks: eggs, butter, and milk. This type of cake came out of the Great Depression, when money was scarce and so were ingredients. People figured out to make cake with what that had. Because we always need cake.
How to Make a Crazy Wacky Cake:
Step 1: Put away the eggs, milk, butter, and bowls.
Step 2: Mix ingredients and bake.
I'm serious when I say these cakes don't use eggs, milk, or butter. The incredible thing is that even without those ingredients, these cakes still turn out moist. As someone who prefers a moist cake over a dry one, I'm all for these crazy cakes. Another thing you don't need to grab is a bowl. Pour the dry ingredients right into your baking dish. Make a few wells for the wet ingredients, mix, and bake. Fewer bowls = less clean up = one happy baker.
Crazy Wacky Cake Spotlight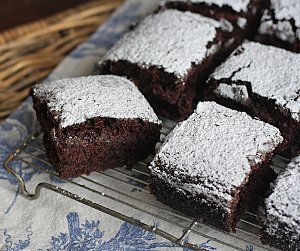 Get excited for this first recipe! As this is a budget friendly recipe, it makes sense to top off the cake with a light dusting of powdered sugar. It doesn't need anything too fancy.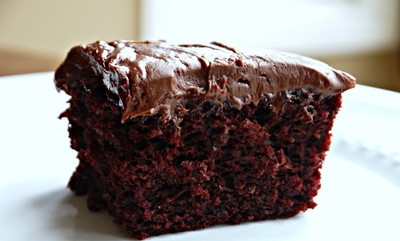 As I mentioned above, you don't need any bowls to make this cake. Mix everything right in the pan! Top it with the frosting of your choice.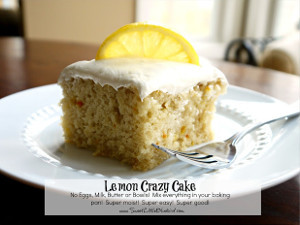 Crazy wacky cake doesn't come in just chocolate. You can adapt it to a variety of flavors, such as lemon.
If you want to get even CRAZIER, add coffee and Kahlua to your crazy cake. They give the cake a subtle flavor that makes it (in my opinion) more special that a typical chocolate cake. *Recipe from Mary from Sweet Little Bluebird.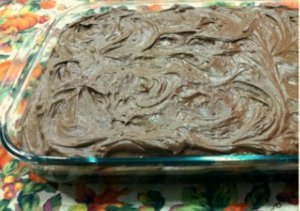 Carole's Tip: Use a glass baking dish. A metal dish can cause a chemical reaction that affects the taste of the cake. A glass baking dish will produce a better tasting cake.
What are your budget-saving tips when it comes to dessert?