Let's get one thing straight: Using shortcuts is not cheating, especially when it comes to making dessert. In fact, shortcuts can make desserts even better than they would have been if they were made completely from scratch. Crescent roll recipes are, perhaps, the best example of successful shortcuts.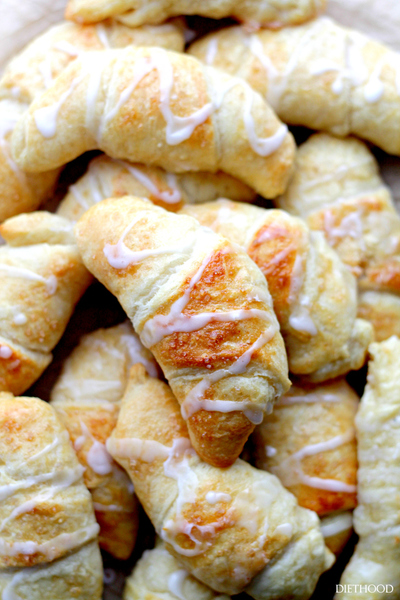 There are so many possibilities for recipes with crescent rolls. While I love crescent roll dinner recipes, I'm all about the sweets. Danishes, rolls, bars… Crescent roll recipes for dessert can take so many shapes and forms that I could probably eat a different treat every night for the rest of my life and never repeat a single one. Now that's impressive.
My love for Pillsbury crescent rolls started when I was in middle school. We made these cinnamon sugar knots in Home Economics one day and I just couldn't stop eating them. It was the very first time I had ever eaten a crescent roll in a non-dinner side dish form and I couldn't believe how much I enjoyed it. I remember going home that day and raiding my refrigerator to see if we had any extra Pillsbury tubes sitting around.
I guess what I'm trying to say is that I love baking with crescent rolls. Pillsbury crescent roll recipes are the best kinds of recipes to make. I love making them for crowds of people (including baking some up for bake sales) as well as just for myself on a lazy night in. The flakiness of the crescent rolls just goes so well with the sweetness of whatever topping or filling that's combined with the rolls.
If you're as much of a fan of crescent roll recipes as I am, you need to add every single one of these crescent roll dessert recipes to your "To-Bake" list. Right now.
1. Peaches 'n' Cream Bars
2. Lemon Cheesecake Crescents
3. Lazy Day Coconut Macaroon Bars
4. Crescent Roll Peach Dumplings
5. Stupidly Easy Crescent Roll Dessert
6. 2-Ingredient Apple Dumpling Bake
7. Nutella Crescent Rolls
8. Chocolate Almond Crescents
9. S'mores Crescent Roll
10. Sweet Resurrection Rolls
11. Easy Lemon Cream Danishes
12. Aunt Pearl's Crescent Bars
13. Grab and Go Caramel Rolls
14. Sopapilla Crescent Rolls
15. Salted Caramel Sticky Buns
16. Apple Coconut Dream Bars
In the mood for some savory crescent roll recipes?
"19 Easy Recipes Using Crescent Rolls"
has quite a few delicious appetizers and entrees for you to try (including my favorite
Appetizer Pizza Rolls
)!
What's the best crescent roll recipe you've ever made?