I have to say, when I first entered the crafting world, toilet paper roll crafts were definitely not on my radar. I was all about scrapbooking projects and printables, not to mention sewing. I can make a mean pillow, ya'll. But toilet paper roll crafts? Uhhh no way.
At first, I was really hesitant about them. After all, toilet paper rolls come from your bathroom and go into your recycling bin once they're empty. I couldn't fathom who had come up with the idea of using them for other things (like easy paper crafts)! I mean, it's not like I can just look at an empty toilet paper roll and think "CRAFT!"
However, I've come to find out that using toilet paper rolls for crafts is actually really thrifty. Their cylindrical shape makes them perfect for a lot of different projects and purposes. I know that sounds kind of infomercial-y, but it's true!
My favorites of those projects and purposes are definitely toilet paper roll animals! Are you even aware of how many cute little animals you can make with toilet paper rolls? I don't know about you, but there's no such thing as too many cute animal decorations in my opinion. I could probably cover my desk with all of the cute animals I've crafted over the last few weeks.
Spring is all about rebirth, so why not give toilet paper tubes new life and make them into cute little animals and critters? So basically, what I'm trying to say is reduce, reuse, and recycle your toilet paper tubes into fun and thrifty toilet paper crafts animals!
1.
Adorable Cardboard Tube Giraffe
2.
Super Cute Toilet Paper Roll Animals
3.
Toilet Paper Roll Butterflies
4.
Marionette Puppy Puppet
5.
Toilet Paper Roll Peacock
6.
Curly Coiled Snakes
– I'm not usually a snake fan, but these are adorable!
7.
Darling Cheap Chicks
8.
Too Cute Toilet Paper Roll Owls
9.
Toilet Paper Tube Angry Birds
10.
Beaded Butterfly Beauties
11.
Toilet Paper Roll Penguin
– They're cute during more than just winter!
Bonus! Other Fun Toilet Paper Roll Crafts for Spring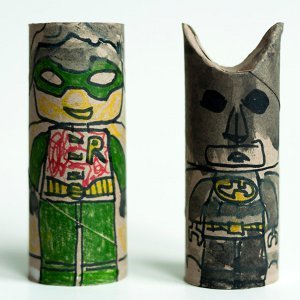 DIY Organizer with Toilet Paper Rolls – Perfect for spring cleaning!
Toilet Paper Roll Sunflowers
Lucky Toilet Paper Roll Clover
Batman and Robin Tube Toys – Holy toilet paper roll craft, Batman!
Pretty in Pink Party Poppers
Spring Paper Tube Sachet
The Prettiest Clock You've Ever Seen
What are some of the best toilet paper roll crafts you've ever made? Let us know below in the comments!