I love everything having to do with books. Reading books, talking about books, watching book-to-film adaptations, making book crafts… You name anything having to do with bound collections of words and stories, I love it.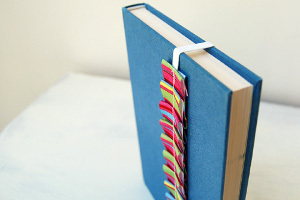 If I could get paid for just sitting around and reading all day long (with a few breaks for sweet treats), I would be the happiest girl in the entire world. Until that day comes, I'll settle for reading during every spare moment that I have. And when I want to watch TV and give my brain a bit of a rest, I'll curl up with a blanket and a few book crafts. In case you can't tell, this is pretty much how my weekends go.
There's just something so fun (and even inspiring) about making crafts that relate to literature. They seem so much more classy than other easy craft projects and are things that I'd use every day or have hanging in my house all year long. As much as it pains me to destroy books, I actually really love crafts with old books. I love making crafts with book pages or using the cover of a book to make something new (like a purse)!
When it comes to book crafts, the possibilities are pretty much endless. Below are just a few of the easy craft projects that I have on my to-do list for this year. I hope they make your to-do list too!
Fun Bookmarks
Paper Heart Corner Bookmark
Fast Flower Crochet Bookmark
"Never Lost" Bookmark
5 Minute Vintage Button Bookmarks from My Sister's Suitcase
Funny Words Printable Bookmark Set
Cute Kitty Printable Bookmark
Book Page Crafts
Book Wreath
DIY Paper Bow Tie from Morning Creativity
Book Page Paper Roses DIY Project
Glitter and Book Pages Flower
DIY Vintage Book Bunting from The Most Delicious Adventure
Baby Bird Book Page Ornament
Simple DIY Window Decoration from Artsy Ants
Super Cute Harry Potter Crafts
Harry Potter Gryffindor Crochet Scarf Pattern
The Coolest DIY Harry Potter Wands
Harry Potter-Inspired Treat Bag
Harry Potter Pendants – Immortalize words in a pendant!
Harry Potter Dog Costume
Other Gorgeous Book Crafts
Very Vintage Book Necklace
Crochet Elephant Bookends
Homemade Book Clutch from The Surznick Common Room
Hittin' the Books Necklace
Perfect Purse Notebook Cover
Vintage Book Tablet Case from Stamped in His Image
Thrifty Chevron Bookcase
Bonus!
All book lovers will love these magical Harry Potter recipes! They're just so fun!

What kind of book crafts do you like best? Crafts with old books or something else?