Cool Whip is one of those ingredients that makes or breaks a dessert, as in "if the dessert doesn't include Cool Whip in it somehow, it's not nearly as delicious as it could be." It just makes everything better, even if it's just dolloped on top of a dessert.
We don't know about you, but we love putting this light and creamy ingredient in everything we possibly can. From frozen desserts, to lightened-up cookies, to "cakes," and everything in between, we can never turn down a Cool Whip dessert recipe and we're hoping that you feel the same exact way.
In celebration of one of the best sweet treats ever invented, we decided to round up all of our favorite Cool Whip desserts to share with you. So thaw out that frozen container of Cool Whip and check out some of our reader-favorite recipes that we've included below. We're telling you right now that you won't want to miss these easy dessert recipes.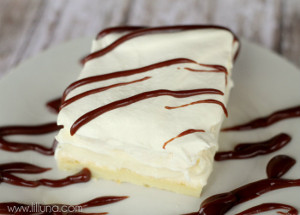 Admit it: The best part about a cream puff is the filling. It's ok to say it. We all feel the same way. It's that love for smooth cream pie filling that made this cake a possibility. The "cake" is made of a slightly sweet crust that's covered with a creamy filling that's made with Cool Whip.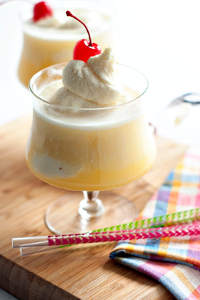 If you've ever been to Walt Disney World, you'll know just how important it is to make a stop for Dole Whip while you're in Magic Kingdom. This recipe is a really great copycat of the classic Disney treat. It's perfectly sweet and tangy, which makes it hard to stop eating!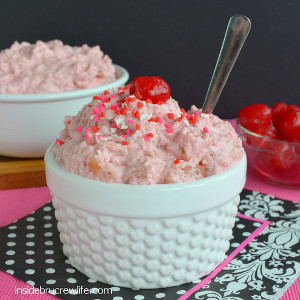 If you've been searching for a dessert that's light and delicious, look no further. This Jell-O salad recipe is wonderfully creamy and has the perfect amount of fruit flavor. It even has chunks of fruit mixed in, which adds a really great contrast to the smooth Cool Whip mixture.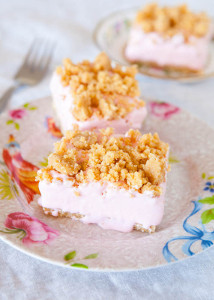 When we made these sweet treats for our office last summer, they were a giant hit. In fact, they disappeared within minutes of being served. Why? Because they have a refreshing pink lemonade flavor that's balanced out by a slightly salty cracker crust. This recipe with Cool Whip is a must-try.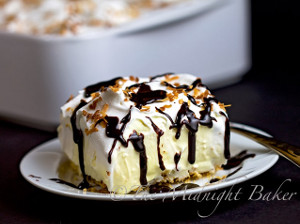 This easy dessert recipe is the best of both worlds. It has all of the flavors you love about a homemade coconut cream pie with the simplicity and layered goodness of Sex in a Pan. Plus, it's incredibly easy to throw together, making it the perfect dessert for both parties and a low-key night at home.

Plus, find out how to make your own homemade cool whip substitute!



To find more recipes with Cool Whip, be sure to check out one of our newest recipe collections, 12 Cool Whip Desserts You'll Love!
What's your go-to Cool Whip dessert recipe?