Print This Post
In my experience, when I make DIY bracelets, the first thing I want to do is show them off. I just can't help myself, especially if they turn out to be absolutely fabulous.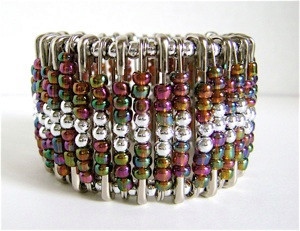 I mean, I took the time and the effort to make something gorgeous, so why not flick and shake my wrist a bit to show off my handiwork? At the end of a homemade bracelet project, I feel like I've earned it. Plus, a lot of the DIY bracelets that I make look don't look nearly as cheap as they cost. Seriously, some of my favorite jewelry projects are dirt cheap and yet 100% stunning. That's the magic of DIY, people.
But let me backtrack here for a second. The reason why I love making homemade bracelets is because they give me a kind of confidence that I don't get from store-bought jewelry. Even the high-end kind. I like putting effort into making clothing and accessories for myself. It's just a great source of pride for me. So, when I learned how to make a bracelet or two for cheap, you can imagine how excited I was.
Basically, there are two lessons to be learned here:
If you made it or if it makes you feel good, show off those DIY bracelets!
Jewelry-making doesn't have to be expensive. You can make beautiful jewelry projects with inexpensive materials.
(Yes, there may be a test on these lessons later. 😉 )
If you're having a hard time finding a tutorial for how to make a bracelet that look like a million bucks, please allow me to point you in the right direction! Any one of these homemade bracelets would look great on you.
Chic Knotted Twist DIY Bracelet
5 Dollar Satin Cord Wrap Bracelet
Half-Dollar Color Block Bracelet
Classic Rocker Wrap Bracelet
Buttons as Charms DIY Bracelet
Woven Chain Bracelet
4 Step Leather Knotted Bracelet
5 Minute Vintage Cuff
Heart Clasp Bangle Bracelet
Beginner's Wrap Bracelet
Gone Fishing Anchor Bracelet
Simple Seed Bead Bracelet
Three-Step Beaded Cuff Bracelet
Insanely Beautiful Painted Bangle
Extra Easy Beaded Bracelet
Pastel Rope Bracelet
Simple Links Chainmaille Bracelet
Looking for more impressive DIY jewelry projects? Check out these other cheap craft collections!
1. 5 Last-Minute Jewelry Gifts For Your Mom
2. Spring Forward: Nature Inspired Jewelry Crafts for Spring
3. 6 DIY Jewelry Projects From Household Items
Plus! If you want to dive into the world of macrame bracelets, make sure to check out our guide on How to Macrame: 7 Must-Know Knots! 
Do you normally make DIY bracelets for yourself or do you prefer to give them as gifts?
AllFreeJewelryMaking is dedicated to the best free jewelry making projects, tutorials, tips and articles. From easy-to-put-together projects, to more complex stitching patterns, we find and deliver the best free jewelry making patterns from all over the web. Plus, we feature free product reviews and giveaways of all the latest and greatest products including bracelet kits, findings, jewelry making books, and more. AllFreeJewelryMaking is a wonderful online resource for jewelry makers of all skill levels.
Print This Post