Have you ever tasted a easy dessert recipe and thought, "Mmm, that's heavenly!" Well… prepare to start up on that stairway to heaven when you try the recipes we're about to share. For our #DIYAngelCrafts feature this week, we're feeling #blessed.
What makes a recipe angelic? Angel food cake is a pretty obvious place to start. I think angelic desserts are basically keeping it simple; they aren't terribly over-indulgent. Sweet, light, and fluffy is the M.O. for many desserts that bear the name "angel."
Our most popular angel dessert is the Angel Food Cake Churro Bites. I don't know if I can put into words how amazing these are, so here's a photo:
It's easy to see why this recipe by Kristyn from Lil' Luna is a crowd favorite. Just imagine serving it at a holiday brunch, or for dessert at your next potluck!
Here's our top easy dessert recipes to appeal to your inner angel!
#DIYAngelCrafts: 9 Angelic Easy Dessert Recipes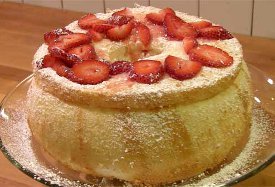 What easy dessert recipe will you try?