Are you a fan of the Downton Abbey TV series? Carolyn here from Carolyn's Canvas and I must have been born in the wrong era because I love the clothing. Lady Cora Crawley's gorgeous white riding coat with black embroideries caught my eye and I said "Self, you need something like this" but self didn't want to get into tailoring and doing all that fancy needlework so I came up with my own quick, easy, fairly inexpensive version for a vest. P.S. There's a matching Downton Abbey Inspired Hunt Hat!


A white sweatshirt could be the base with some lace I had in my stash for an overlay to make it a little more elegant, and hide the fact that a sweatshirt was being used. Then there is that black lace that we had cut motifs from for the dress great, granddaughter, Korah, had made for her graduation.  I don't even remember when or where I got it or how long it has been in my treasury. 
Since there was no white sweatshirt in my closet, I did have to break down and purchase one-it didn't have to be a great one-it was, after all, going to be all cut up. If you decide to try the vest you will need:
Materials:
a sweatshirt in size needed-I used a size smaller than I usually wear so the vest would be more fitting

 1 1/2 yards lace for overlay

lace for cut out appliques or purchased appliques-I checked out appliques similar to the ones I created in size and look-they were almost $5 each-4 were used on this vest

4 closures, trims [braids, rick rack, laces]

fabric glue [optional if sewing appliques]
Instructions:
Mark and cut shirt as shown first cutting bottom ribbing off [you can also use a vest pattern]:
2. Use vest as guide for cutting lace overlay. Leave 5/8″ seam allowance all round lace for side and shoulder seams.
3. Sew lace shoulder and side seams.
4. Place lace over vest-pin.
5. Serge, zigzag or straight stitch around all edges
6. Sew on trims around all edges, glue or sew appliques on, sew on closures.
I love the way the vest turned out. Here are more photos with its matching Downton Abbey Inspired Hunt Hat that that my sister made and is modeling:
The vest could be constructed in an afternoon and I don't think anyone will guess you started with a plain sweatshirt unless they look at the label which can be covered with your own label. 
It just so happened the black blouse that had been bought a couple of years ago at a thrift shop is the same black lace as the lace the appliques were cut from-things are getting kind of weird around here.
I love deconstructing, reconstructing and re-purposing- sometimes making something from almost nothing, don't you?
May the joy of crafting be upon you
Bonus Giveaway!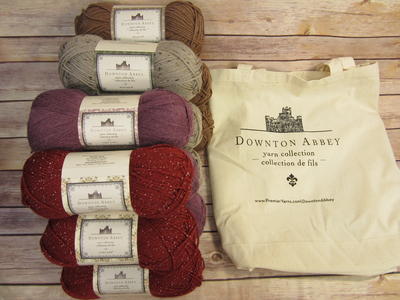 Who's your favorite Downton Abbey character?