Print This Post
Are you a fan of the Downton Abbey TV series? Carolyn here from Carolyn's Canvas and I must have been born in the wrong era because I love the clothing. Lady Cora Crawley's gorgeous white riding coat with black embroideries caught my eye and I said "Self, you need something like this" but self didn't want to get into tailoring and doing all that fancy needlework so I came up with my own quick, easy, fairly inexpensive version for a vest. P.S. There's a matching Downton Abbey Inspired Hunt Hat!


A white sweatshirt could be the base with some lace I had in my stash for an overlay to make it a little more elegant, and hide the fact that a sweatshirt was being used. Then there is that black lace that we had cut motifs from for the dress great, granddaughter, Korah, had made for her graduation.  I don't even remember when or where I got it or how long it has been in my treasury. 
Since there was no white sweatshirt in my closet, I did have to break down and purchase one-it didn't have to be a great one-it was, after all, going to be all cut up. If you decide to try the vest you will need:
Materials:
a sweatshirt in size needed-I used a size smaller than I usually wear so the vest would be more fitting

 1 1/2 yards lace for overlay

lace for cut out appliques or purchased appliques-I checked out appliques similar to the ones I created in size and look-they were almost $5 each-4 were used on this vest

4 closures, trims [braids, rick rack, laces]

fabric glue [optional if sewing appliques]
Instructions:
Mark and cut shirt as shown first cutting bottom ribbing off [you can also use a vest pattern]:
2. Use vest as guide for cutting lace overlay. Leave 5/8″ seam allowance all round lace for side and shoulder seams.
3. Sew lace shoulder and side seams.
4. Place lace over vest-pin.
5. Serge, zigzag or straight stitch around all edges
6. Sew on trims around all edges, glue or sew appliques on, sew on closures.
I love the way the vest turned out. Here are more photos with its matching Downton Abbey Inspired Hunt Hat that that my sister made and is modeling:
The vest could be constructed in an afternoon and I don't think anyone will guess you started with a plain sweatshirt unless they look at the label which can be covered with your own label. 
It just so happened the black blouse that had been bought a couple of years ago at a thrift shop is the same black lace as the lace the appliques were cut from-things are getting kind of weird around here.
I love deconstructing, reconstructing and re-purposing- sometimes making something from almost nothing, don't you?
May the joy of crafting be upon you
Bonus Giveaway!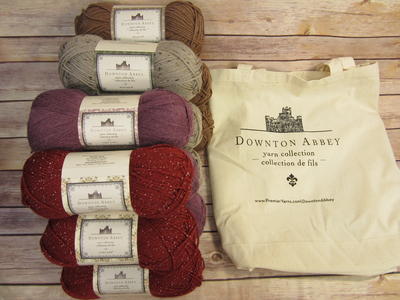 Who's your favorite Downton Abbey character?

I am a 75 year old widow of 3 years after 55 years of marriage whose main focus in life has been my family and homemaking. I love designing, creating, and re-purposing. I was very involved with my children and their activities, then my grandchildren, and now with my great, grandchildren. My first love in crafting is in textiles, mainly quilting. The first quilt I designed was for my grandson over 30 years ago and that pattern will soon be available online. I am loving the internet world where I can market my designs, publish tutorials and talk with crafters all over the world from my own little corner of the world even though never having a lesson on the computer or internet networking I do have to call on my grandchildren at times for help. They still think I rode in on a dinosaur but that's ok, I'm having a great time. I have enjoyed a great deal being able to share my love of crafting on FaveCrafts and FaveQuilts.
Print This Post