If there's anything I've learned since I've started crafting regularly, it's that you can make bunny crafts out of everything, including food. Sure, there are a ton of crafts and recipes for other holidays or themes but, for some reason, bunnies are huge, especially when it comes to Easter arts and crafts.
My theory on why there are so many bunny crafts in the world is that it's because bunnies are adorable. Okay, so that's probably a really obvious theory, but it's a theory nonetheless! There are just so many easy Easter crafts and Easter recipes that revolve around the cutest long-eared animal, so that has to be why. Bunny crafts are more than just a thing. At this point, they're a way of life.
If you've ever been curious about how to make a bunny from cotton balls, yarn, felt, washcloths, etc., check out all of the super fun bunny crafts and Easter treats below! No matter what sort of Easter craft ideas you're looking for, you're sure to find at least one thing you'll want to make this year.
Cute Bunny Easter Crafts
How to Make a Washcloth Bunny
Teeny Tiny Baby Bunny
Quick and Easy Burlap Bunny
Bunny Finger Puppets
Precious Paper Bunny Garland
How to Make a Bunny in 5 Minutes
Fat Quarter Easter Bunny
Oh So Sweet Sock Bunny
How to Crochet an Easter Bunny
Yarn Bunny
Tiny Bunny Sachets
Fluffy Knit Bunny Pattern
Patchwork Bunny Ornament
"Chocolate" Felt Bunny – Looks just like a solid chocolate bunny!
Clothespin Easter Bunnies
Make a Stuffed Toy Bunny
Pipe Cleaner Easter Bunny
Crochet Bunny PEEP
Basic Bunny Bun – Stylin'!
Cute Little Spring Bunny
Quick and Easy Bunny Favor Bags
Mini Sock Bunny
Cute Styrofoam Cup Bunny
Crochet Baby Bunny Wash Cloth
Felt Bunny Family Portraits
Cotton Ball Bunny
Bunny Feet Slippers
Cute Bunny Easter Treats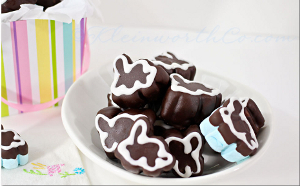 Chocolate Covered Bunny Marshmallows
Easter Bunny Cake – An easy Easter recipe with cake mix!
Bunny Twinkies
Easter Bunny Pretzel Pops
Easter Sunday Deviled Eggs
Easter Bunny Donut Pops
On the hunt for more bunny crafts? Check out this collection! –> Easter Arts and Crafts: 29 Bunny Crafts

What sorts of bunny crafts have you made in the past?