I have to say, out of all of the paper crafts in the world, my favorite ones to make are the easy printable paper crafts. Why? Because they're so easy to do. Because it's like instant satisfaction every time I finish a project.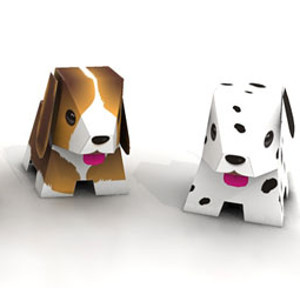 Sure, I love scrapbooking, making handmade cards, and working on elaborate paper crafts. I really do. However, sometimes I'm just in the mood for some instant satisfaction and only printable paper crafts can really give that to me. With everything going on in my life at the moment, I really don't have all that much time to sit down and work on a project for hours.
But I definitely have time for printables. In fact, this past holiday season, I was able to print out and make fun and beautiful snowflakes for all of my loved ones because it took very little time!
Plus, I find printables to be budget-friendly because I don't have to buy a ton of paper to complete the project and I could use the library to print projects when I'm trying to watch my ink. You honestly really can't go wrong with easy printable paper crafts. At least, you can't in my opinion.
Don't know where to start when it comes to choosing projects? Here are the easy printable paper crafts that I'm crushing on right now!
1.
Adorable Printable Puppies!
2.
Printable Mitten Bookmark
3.
Printable Chalk Board Mason Jar Art
4.
Printable Animal Friends
5.
Free Printable Victorian Labels
6.
Printable Winnie the Pooh Paper Doll
7.
Printable Woodland Creature Bookmarks
– So, so cute!
8.
The Cutest Baby Seal EVER
9.
NEW
10 Free Printable Valentine's Day Cards
10.
The Cutest Recipe Cards You'll Ever See

Once you've gone through all of those easy printable paper crafts, take a look at some of our other popular paper craft collections!
1. 10 Things You Need to Start Making Out of Paper Right Now
2. Recycled Paper Crafts with Sheet Music, Magazines, and More!
3. The Ultimate Collection of Minecraft Paper Crafts
4. One Sheet Wonders: Simple Paper Crafts
5. 17 Handmade Cards for Cheapskates – Perfect for Valentine's Day!
What is the shortest amount of time it has ever taken you to complete a paper craft? What about the longest?