Can you believe the holiday season is already here? It seems like the first chilly day of fall was just last week! With everyone chipping in for the perfect Christmas feast, we've got 20 good reasons why you need to call dibs on bringing the dessert.
By the time Christmas actually arrives, no one wants to munch on yet another cookie. This is where you come in to save the day with an ingenious dessert that's not just a repeat from Thanksgiving: pudding.
Pudding comes in so many different flavors and styles that you can find just the right variety to fit the needs of your family and friends. Plus, pudding recipes use so few ingredients that they're especially convenient for those on a tight budget. Come check out a few of the different varieties you can try out this Christmas.
Bread Pudding Recipes
Bread pudding recipes are a great way to use up any leftovers from a loaf you don't want to throw away. From classic flavors like our Cinnamon-Raisin Bread Pudding (shown above) to more indulgent dishes like our Donut Bread Pudding. Either way, it's wonderful to not have to throw away extra food we've got lying around!
Rice Pudding Recipes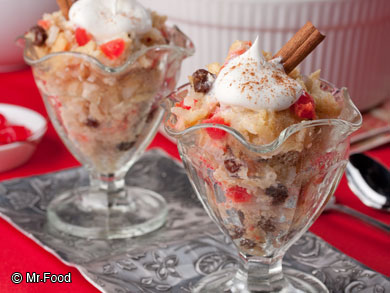 Rice pudding is one of our go-to desserts when we're looking for something that seems a bit fancier but is actually super cheap and easy to make! Our Hotel Rice Pudding (shown above), for example, can get all dressed up just by using parfait glasses. And if you're looking for a unique twist on this classic, check out our vacation-worthy Tropical Layered Rice Pudding.
Fruity Pudding Recipes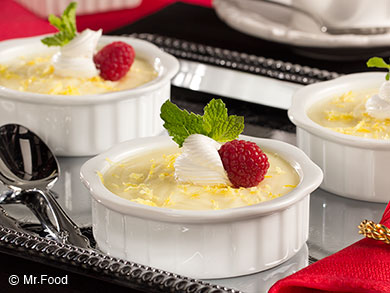 After a heavy and filling meal, sometimes you just need a change of pace with dessert, so you don't feel overstuffed. The sweet 'n' creamy Lemon Pudding (shown above) is a refreshing after-dinner treat, providing just the right amount of light, tart flavor to make your whole meal come together.  And you haven't had pudding until you've tried our absolutely addictive Caramel Sea Salt Banana Pudding. It's just as amazing as the name implies.
Chocolate Pudding Recipes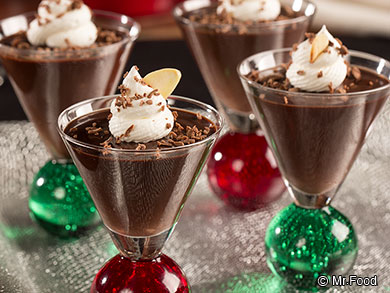 While Christmas is full of love and warmth, it can also be completely exhausting, wouldn't you agree? And after all, if you've had a rough holiday season, chocolate is said to have healing powers (at least according to the Harry Potter books), which is why these chocolate puddings are just what you need at the end of your Christmas dinner.. It's hard to top a classic dessert like our Decadent Chocolate Pudding (shown above). We've garnished ours with some chocolate shavings because, let's face it, more chocolate is never a bad thing. For the ultimate dessert, you've got to check out our Chocolate Cookie Pudding. When in doubt over which dessert to make, just combine them into one epic dish.
If you're looking for even more incredible pudding recipes, we've got a free eCookbook you're gonna love called The Proof is in the Pudding: 20 Amazing Bread Pudding Recipes, Rice Pudding Recipes, & More. Pick your favorite to bring along to your holiday dinner!
We want to know! What's your go-to Christmas dessert? Let us know in the comments below!