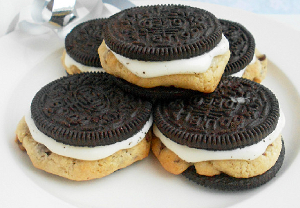 Oreos are called "Dessert's Favorite Cookie" for a reason. Their combination of crunchy chocolate cookie pieces and a sweet and creamy filling is positively perfect. I don't know about you, but I can't keep my mouth from watering whenever I even just think about them. And I think about them often. In fact, I think (and dream) about Oreos so much that I always have to have a package or two around the house for when my intense cookies 'n' cream cravings set in. It's a good thing that Oreos are so cheap, otherwise I'd be in pretty big trouble!
While Oreos may be perfect just as they are, they taste even better when incorporated into a dessert (if you can believe that). Plus, baking with Oreos is just so much fun! For instance, you can cover the entire cookie in cookie dough or chocolate, crack the cookies up into smaller pieces and bake them into treats, or completely pulverize the cookies and use the crumbs to make a cookie crust. With Oreos, the baking (and no-baking) possibilities are pretty much endless.
Don't believe me? On TheBestDessertRecipes alone, we have 26 recipes with Oreos and counting (27 if you count eating Oreos as they are with a bit of milk). Below you'll find just a few of my personal favorite recipes. Take it from me: You definitely won't want to miss out on trying these treats.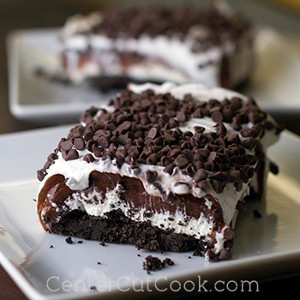 (shown left)
(shown above)

Check out Dessert's Favorite Cookie: 26 Recipes with Oreos for our entire collection of Oreo recipes.

Oh hey, did I mention we're giving away free packages of Biscoff cookies?!

No, Biscoff cookies aren't Oreos, but they're definitely just as delicious. I swear. I can't stop eating our review sleeves of Biscoff cookies. They're just too good.
If you like free stuff (which I'm assuming you do), you should definitely enter our Biscoff Cookie Family Pack Giveaway! Three lucky winners will receive a giant family-sized box of Biscoff cookies. How many cookies is that, you ask? 320! Read our review of these delicious treats and then be sure to enter the giveaway for your chance to win. The giveaway is open until February 9th at midnight so make sure you get your entry in ASAP!

What are your favorite dessert recipes with Oreos?