Fall is definitely my favorite season. Sweaters, scarves, hot chocolate, pumpkin flavored everything. The smell of leaves. Bonfires. I can't think of a more magical time than autumn. Of course, seasonal foods are always a favorite. FaveGlutenFreeRecipes.com has a host of amazing recipes for fruits and veggies that are in season. Namely, apples.
One of the best things that you can do when you go shopping for groceries is to by fruits and vegetables that are in season. It means that a) they are fresher, b) haven't traveled very far to get to the grocer, and c) will be cheaper. And cheaper is always better. Apples are normally very cheap; when you get them in season, they tend to be even cheaper. This is because the grocer buys more apples; therefore, they must sell more.
Apples are delicious this time of year. There's just something really perfect about a crisp apple on a cool day or a hot cup of cider on a chilly night. Apples and early fall definitely go hand-in-hand.
Here are some awesome apple recipes for fall: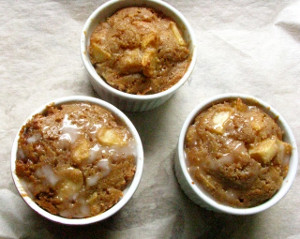 Inspired by apple fritters, these awesome cakes are stuffed with apples and then topped with a powdered sugar glaze. Cinnamon gives this recipe a great, warm flavor that goes perfectly with the apples.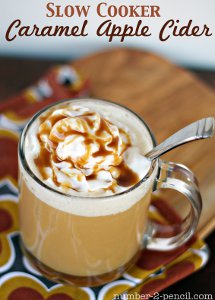 Caramel Apple Cider is the perfect drink to make on a crisp fall day. It'll warm you up when the weather starts to get cooler. Cinnamon and apple make a fantastic flavor as well as aroma. Caramel sauce sweetens this slow cooker apple cider perfectly.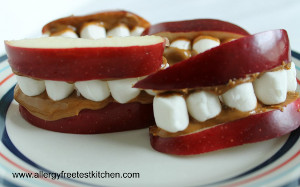 This kid-friendly snack is a perfect after school treat for your little ones. This three-ingredient recipe for Apple "Teeth" Snack is a simple, fun way to get your children to eat their fruits. Yummy and silly, you can't help but smile back at these entertaining treats.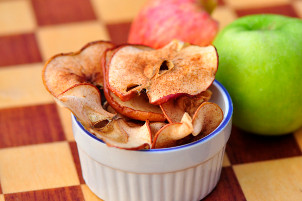 Baked Cinnamon Apple Chips are impossibly easy and incredibly delicious. Put down the bag of greasy chips and grab an apple. Each slice is dusted in cinnamon and sugar, bringing out their natural sweetness as well as adding a wonderful amount of warmth to them. These chips are perfect on salads; you can eat them on their own as well.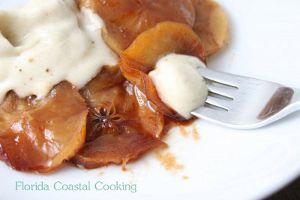 The sweetness from the cinnamon and sugar pairs perfectly with the tartness from the apples and lemon juice to create a quick apple dessert that is scrumptious and amazing. A baked apple dessert is the perfect treat for any occasion.
What is your favorite thing about fall?