As the leaves change color and the temperature begins to drop, we realize the fall season is quickly approaching. Now is a better time than any to start preparing your fall wardrobe with free crochet patterns. I'm talking hooded crochet scarves and crochet sweaters! If you're not a big fan of crocheted hats, but you still want something to keep your head warm then you'll love the hooded scarves you can crochet. Even the sweaters we've picked out have hoods on them to keep you toasty. It's time to whip up a new fall fashion this season.
Hooded Sweater Patterns: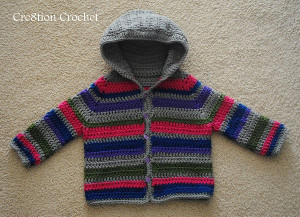 The Simplest Toddler Sweater – Made for a boy or a girl, she'll be ready for the fall season. The hood will keep her head warm and the button closure makes it easy for on and off.
Hooded Sweatshirt – This is the coziest hoody you will ever sport. You can make it loose for the perfect amount of breathing room.
Shell Stitch Hooded Sweater – From newborn to three months, you're new baby can stay warm in her first few months; find matching crochet booties, too.
Hooded Scarf Patterns: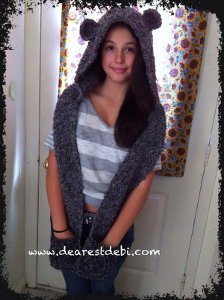 Snow Bear Hooded Scarf – Scarf patterns like this are super cute for the kids! The little bear ears will make them laugh themselves silly.
Hooded Infinity Scarf – Only one skein of yarn is needed for this design. The hood and scarf are worked separately and then attached at the end.
Cozy Cat Hooded Scarf –  Both kids and adults will love wearing this crochet scarf pattern. The scarf even has pockets!
If you like the hooded scarf patterns then you'll definitely love the other scarves we have in Crochet Scarf Designs: Cute Crochet Scarf Patterns For All Seasons. When we were kids we'd wrap ourselves in bulky weight scarves to play in the snow, but now we see people wearing scarves during the summer, too. Choosing the right yarn weight for the right season is important for your stylish fashion each season.
Do you plan on crocheting scarves and sweaters for the fall?