Print This Post
We love cooking, but we don't love grocery shopping. Can I get an amen? First of all, grocery shopping can be a chore. Second, if you open your wallet afterward, little dust bunnies float out because it is empty. Not fun.
That's why recipes with a handful of ingredients are the best – you don't have to spend a lot of time shopping, and you save some money. Does your casserole really need 10 ingredients? Odds are, it doesn't taste that much different from a 5-ingredient casserole. The main flavors are still going to stand out. You won't get this advice from the big boys! 😉
Honestly, come dinnertime, you just want to eat, right? You don't want to make a complicated meal. That's for date nights and other special occasions. Follow up dinner with a dessert casserole, and you've got the best of everything.
For those that love home-cooked meals but don't love spending time or money on something that will be cleared from a plate in under an hour, 5-ingredient recipes are a common sense option. Whether you love cheesy, cowboy-inspired flavor or something with a red sauce, there are plenty of options to keep dinner interesting.
We rounded up our fave 5-Ingredient budget-friendly recipes – we hope you like these cheap eats!
Five Casseroles: 5-Ingredient Budget-Friendly Recipes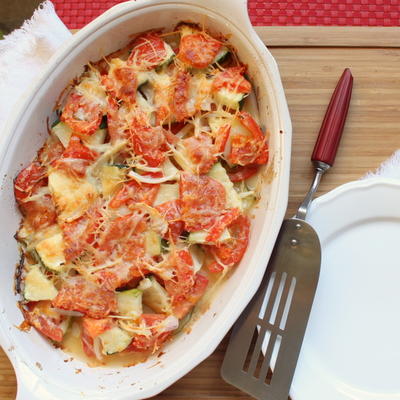 What's your favorite casserole?
AllFreeCasseroleRecipes is dedicated to easy casserole recipes, cooking tips, and articles on cooking. From chicken casserole recipes to ground beef casseroles, we find and deliver the best casserole recipes from all over the web. Plus, we feature free product reviews and giveaways of all the latest and greatest products including cookware, cooking gadgets, cookbooks, food, and more. AllFreeCasseroleRecipes is a wonderful online resource for cooks of all skill levels.
Print This Post