It's tough out there for a quilter! You have to get an early start on all of the upcoming holidays in order to be ready in time, but try and organize everything else at the same time. At FaveQuilts, we're always looking for ways to make the quilting process easier for you, so we've selected some of our favorite free quilt patterns for fall and winter holidays that we believe are not only very fun to make, but also a thrifty way to start decorating your home.
Halloween Quilt Patterns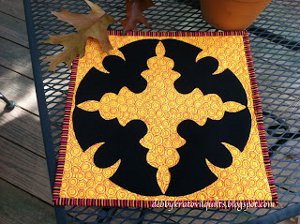 There's only about a month left until the first big holiday arrives, and it's one of the biggest when it comes to decorating. Before you start stringing up your lights, make some spooky and stylish home decor projects like the versatile Wreath of Bats Pattern using templates. You can easily create any kind of applique quilt pattern without even having to spend extra on dies! You can use your favorite Halloween fabric as the base for a custom-made design that looks just as good as anything in stores.
More Halloween quilt patterns to try:
Quilted Crafts for Thanksgiving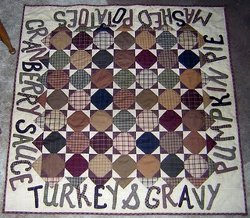 Thanksgiving presents a totally different challenge for quilters looking to decorate their homes. There are plenty of fun characters and themes to choose from, but there's also a side to Thanksgiving that calls for more of a dressed up atmosphere. Having trouble finding the balance? Turn to your quilting; a design like the Homespun Thanksgiving Table Topper combines classic snowball quilt block patterns with fun little applique letters to add in just a little personalized fun to the mix.
More quilted Thanksgiving crafts:
Christmas Quilt Patterns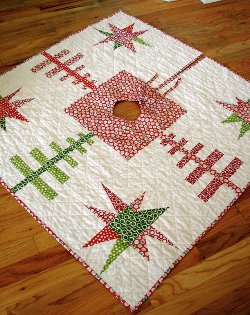 It's the most wonderful time of the year, and nothing puts people in the mood like decorations. At the same time, nothing can clean out a wallet faster than holiday shopping. If you're worried about decking your halls without breaking the bank, there's no better way to do so than by getting crafty. You can make everything from homemade Christmas ornaments to your very own quilted tree skirt like the Evergreens and Stars Tree Skirt! You don't even need to buy new fabric; these Christmas quilt patterns look just as jolly with scraps from last year's holiday quilts.
More Christmas quilt patterns:
FaveQuilts can help you make that holiday stress a thing of the past. All of the inspiration you need is right at your fingertips.
What do you like to craft during the holidays?