Do you ever notice how people never seem to talk about frozen fruit? The same goes for frozen vegetables as well. We're always told to eat our fruits and vegetables, but with the caveat that fresh is better. However, it almost seems like heating and eating frozen vegetables is more okay than eating fruit that was once frozen.
Well, I'm here to tell you that eating frozen fruit is more than okay. It's great!
I know, I know. You're probably asking yourself, "What is this person talking about? Fresh is always better." But that's not necessarily true! Here are a few reasons why I'm a big supporter of frozen fruit (and why I don't like the word "better" when it comes to fresh vs. frozen fruit).
1. Frozen fruit may actually be more budget-friendly, depending on your lifestyle.
I'm the type of person who goes to the grocery store and goes crazy with buying fruit. I always seem to want it all. Yet, I'm never able to eat all of my fruit before it goes bad. Basically, I'm essentially throwing away money because I can't eat my fruit fast enough. Also, I'm usually buying a few out-of-season fruits that carry a slightly hefty price tag, so that's even more money that I'm throwing away if I can't finish eating my produce.
The day I realized that I could buy frozen fruit in bulk was one of the best. Yes, it was a bit disheartening at first to see that a giant bag of frozen fruit cost me $10. But then I thought about it: By freezing the fruit, I could take out whatever I wanted to eat that day and leave the rest in the freezer without worrying about it going bad. Plus, I can buy fruit that may be currently out of season for a more reasonable price!

2. Fresh fruit isn't necessarily healthier than frozen fruit.
While frozen fruit is picked and flash-frozen when it's at its ripest, fresh fruit is picked before it's ripe so that there's less of a chance of it getting damaged while being transported. That means that fresh fruit may have a few less nutrients than frozen fruit, although frozen fruit may lose a few nutrients during the blanching process and some means of reheating. All in all though, they're pretty even, health-wise.

3. Frozen fruit may actually be more flavorful than fresh fruit.
Again, frozen fruit is picked at the peak of ripeness, so there's a good chance of it being more flavorful than fresh fruit you buy at the supermarket. But, again, it depends. Fresh fruit has a certain crispness to it that frozen fruit can't match and, if you pick your own fruit, you can obviously pick it when it's ripe. But what I'm trying to say is that frozen fruit and fresh fruit can be equally flavorful.

4. You can easily use frozen fruit when baking and cooking!
Did you know that one of my first test kitchen creations for TheBestDessertRecipes.com, Banana Split Lasagna, uses frozen fruit? Did you also know that this is one of the most popular recipes that we've ever had on our site? Using frozen fruit when baking or cooking can actually make your recipes more flavorful!
I personally love using frozen fruit when baking or whipping up a dessert. Growing up, my mom would buy mini shortcakes, a tub of Cool Whip, and a package of sliced frozen strawberries, and we'd all go to town making our own strawberry shortcakes. It was quick, easy, and affordable. To this day, it's still one of my go-to desserts (although I do love Old Fashioned Strawberry Shortcake as well).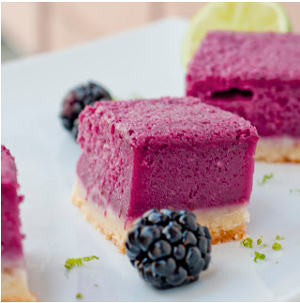 If you're looking to be adventurous and bake with frozen fruit, here are a few of my favorite recipes to make!
The Best Strawberry Rhubarb Crisp
Blackberry Lime Bars (pictured)
Great Grandma's Classic Cobbler
How do you feel about fresh vs. frozen fruit?