It's no secret that I love pizza. Everyone in my family knows it. All of my friends certainly know it. My co-workers even all know it. But, as much as I'd like to make and eat homemade pizza recipes (or frozen pizzas), it's just not possible to do it all the time.
Eating pizza everyday is apparently "not good for you." Or whatever. Fine, I get it. We all need to have balanced diets that include vegetables, cookies, and bread in addition to pizza. That and I guess too much of a good thing can sometimes be a bad thing (although too much pizza has always been a great thing to me).
But just know that I would make frozen pizzas and pizza recipes if I could. For instance, I'm currently obsessed with this Braided Stuffed Pizza. Obsessed. I mean, come on. Doesn't this look amazing?!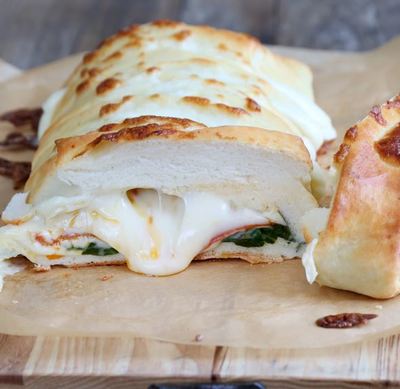 Anyway
, one thing that I love about these easy recipes is that they're cheaper to make than actual pizza. These
easy "pizza" recipes
make for generous portions for less than it would take to make or order an actual pizza, so that's definitely a good thing.
Aside from the fact that they're budget-friendly recipes, I also love that these don't taste like gluten-free recipes. Sometimes gluten-free foods can be polarizing because of not-so-pleasant aftertastes and such. I'm in that camp a lot of the time. However, these "pizza" recipes are different. They have a flavor that is just like normal, gluten-filled pizza.
If you're not exclaiming "I can't believe it's not pizza!" within a bite or two of each of these homemade "pizza" recipes, then I'll be very disappointed. And somewhat confused, to tell you the truth, because I'm in love with all of these. Appetizers, snacks, meals… Give me all of the gluten-free homemade "pizza" recipes!
1. Pepperoni Pizza Muffins
2. Extra-Cheesy Secret Ingredient Pizza Casserole
3. Pizza Dip
4. Loaded Mini Pizza Bites
5. Cheesy Potato Pizzas
6. Pizza Quesadillas
7. Pizza Pasta Bake
8. Fast Fix Pizza Chicken
9. Veggie Supreme Pizza Casserole
On a scale from 1 to 10, how much do you absolutely love pizza?