There are quite a few crochet patterns that will help yarn hoarders burn through that stash in no time. AllFreeCrochetAfghanPatterns has pulled together the best patterns for the cause and you will be well on your way to crocheting the days away. The best part is, you can feel great about using your left over yarn because it's green crafting! By using up all of your yarn, you are preventing waste and helping keep the earth clean.
Green crafting can be a lot of fun, especially when you are crocheting. Many crocheters learn how to take yarn from existing sweaters at thrift stores and crochet with the yarn again. Talk about thrifty! You can find really nice wool sweaters that have seen better days and unravel the yarn to use it for something new. By crocheting with recycled yarn, you can create a recycled craft that was cheap to make and a blast to crochet.
Scrappy Crochet Afghans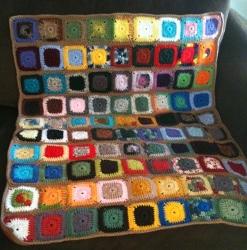 These patterns for crochet will let you pick and choose what yarn you want to use and what colors look best. The best part about crochet patterns for green crafting is the way you can use whatever yarn you want and still be able to create a beautiful crocheted afghan.
Stash-Busting Granny Squares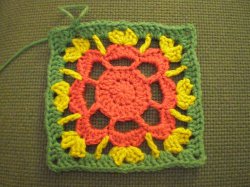 Granny square patterns may seem time consuming, but they can be a great way to use up your yarn.  Follow these patterns below to learn how to crochet granny squares that will eat up all of your extra yarn!
Love these patterns? Want to use up more of your overflowing yarn stash? Picked up some random yarn at the thrift store? Check out Green Crafting: 14 Crochet Patterns to Make with Scrap Yarn!
What's your favorite way to use yarn?