Hi there!
Earth Day encourages us to not only think about our planet's future, our own '"footprints" we leave for future generations, and also how we can use less resources and recycle now! Using that as inspiration, I created a card that made me "think green" by using my own thumbprint as a focal point.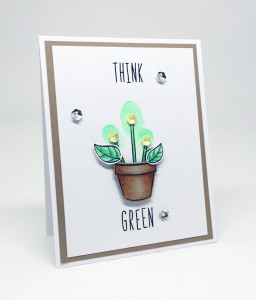 Here are the supplies you will need:
Lawn Fawn Our Friendship Grows stamp set
Lawn Fawn Milo's ABCs stamp set
Lawn Fawn sequins
Radiant Neon Electric Green Ink
Versafine Onyx Black Ink
White Cardstock
Kraft Cardstock
Tweezers
Clear Glue
Tape Runner
Foam Adhesive
Spectrum Noir Colored Pencils: 097, 090, 001, 013, 049, 046
To start, I grabbed an alphabet stamp set and spelled out "THINK" and "GREEN." I recommend always having at least one alphabet set in your crafty stash. They really come in handy to create that perfect sentiment that you might not be able to find in other sets.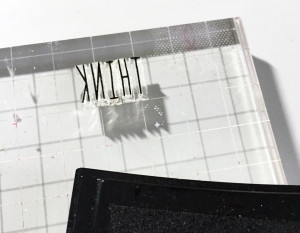 I stamped the sentiments in Black Onyx ink and also stamped a flower pot in the center. I added "THINK" to the top area of the card and "GREEN" to the bottom area to balance everything out.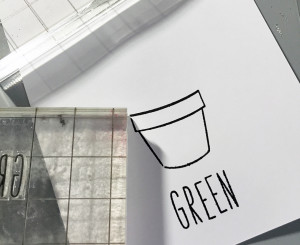 I added some stems (they came in the Our Friendship Grows stamp set; but you can always draw in stems, too!). I allowed them to overlap, knowing that the flower pot would actually be covered up later on.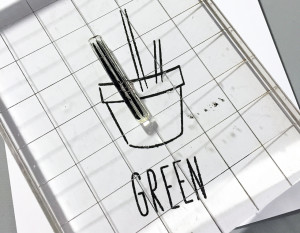 Here comes the fun part! I placed my thumb on a bright green ink pad and made sure it was nice and full of ink! Then I stamped my thumb on the card! And don't worry – I washed it off immediately and there was no ink reside or color left on my fingers at all. 🙂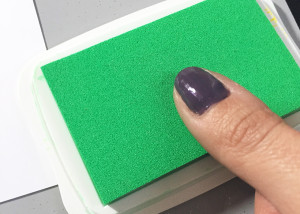 Pretty cool, huh? Think of all of the ways you could use thumbprints for other cards – Easter Eggs, Ornaments, Smiley Faces, etc. Let your creativity flow!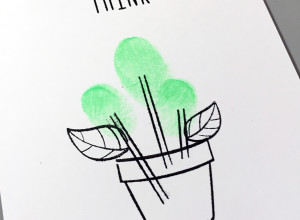 I stamped the same flower pot onto Kraft colored cardstock and then I colored it in using colored pencils. I used a light brown for the shadowed areas and some white in the highlighted areas. I did the same for the stems and the leaves using green and white pencils.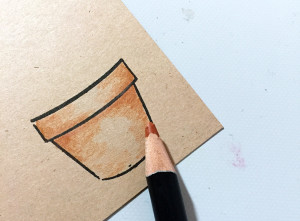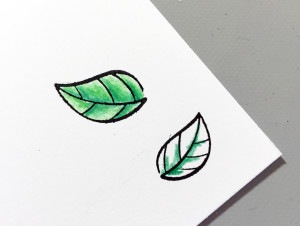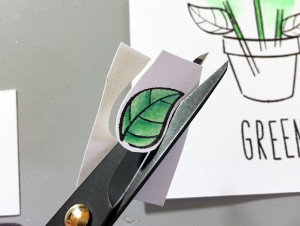 I carefully cut out the flower pot and leaves (some stamp sets have coordinating dies, so you can always use these if you have them instead of having to cut everything out!) and I added some yellow to the center of my fingerprint flowers to loosely emulate a flower's center.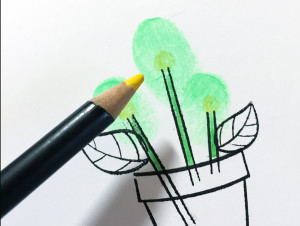 I adhered the leaves and flower pot with foam adhesive to give some dimension.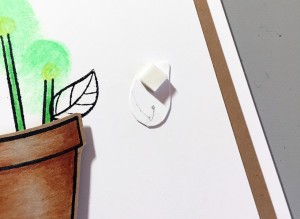 To finish everything off, I added some flower-shaped sequins for extra interest and for the centers of the thumbprint flowers.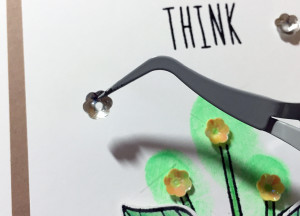 I adhered the card panel onto some Kraft cardstock (this is a brown cardstock, so it reminded me of recycling) and then placed everything on a card base.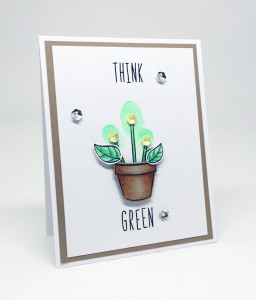 Thanks for stopping by today and Happy Earth Day!