I love creating clean and simple homemade cards, but sometimes I feel like they are a little too simple. By adding just a few easy elements to your card and using some simple techniques, your card becomes more interesting (and pretty amazing)!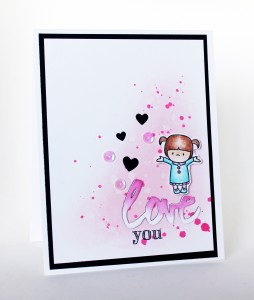 Simple Homemade Valentine's Day Card
Materials:
Stamp Set (image and partial sentiment): Mama Elephant In My Heart and Honey Bunny sets
Word Die: Ellen Hutson Brushstroke
Heart Dies: Avery Elle Geek Love
Black Ink: Memento Tuxedo Black
Distress ink or other blendable ink: Spun Sugar, Picked Raspberry
Ink Foam Applicator
Sequins
Black Cardstock, White Cardstock
Spray Mist: Memento Fireworks Rose Bud
Colored Pencils: Spectrum Noir
Gamsol and Paper Stumps (for colored pencil blending)
Foam adhesive
Tape Runner (or other adhesive)
Die Cutting Machine
Scissors
Washi Tape (or any other reposition able tape)
Instructions: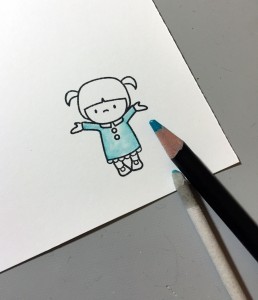 Start out by stamping the image and coloring it in. Any medium can be used. I chose to go with colored pencils, blending them with Gamsol. I love the soft look that is achieved with colored pencils. However, markers, pens, paints or anything else can be used to color in the image.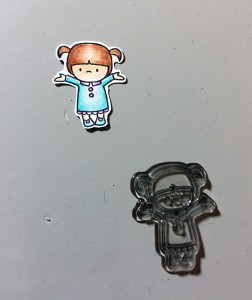 Once you are satisifed with how the image is colored, cut it out. Some stamp sets have coordinating die cuts, so use that if it is available. If not, carefully cut out the image. I generally like to leave a small amount of white space between the edge of the image and the paper. Not only do I like the look of the small white border, it makes any cutting mistakes less noticeable.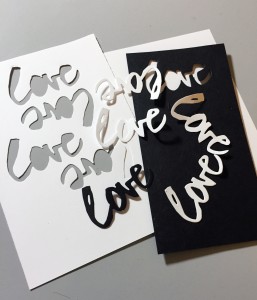 Grab some white and black cardstock and die cut the sentiment you want to use (I went with "love"). Cut once out of the black and two to three times out of the white. Set all of these pieces aside. We will be gluing them together later.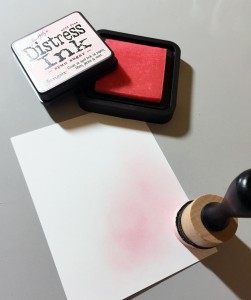 Cut a separate piece of white cardstock to 3.75 x 5. Gently start adding the lighter pink ink to the background. I use a foam applicator in a circular motion. Be very light handed while doing this and keep the ink in one area (the lower right corner). We want this to highlight the image we will be placing on top. By adding just a small amount of ink in the background, we are adding a little extra interest and we are softening up the plain white cardstock at the same time!
After you are happy with the color, use some spray mist to add some extra zing to the same area. You can use the spray nozzle or dip a paintbrush into the bottle and flick some color onto the cardstock.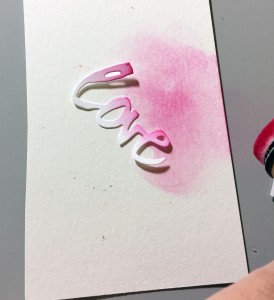 Grab one of the white "love" die cuts we set aside earlier. Add some of the darker pink ink to the top of it, blending it gently using a foam applicator. Add small amounts of ink over and over again. Try to create the effect above, which is called an ombre or a gradient. It starts out dark and fades into white. I have a piece of scrap paper underneath the die because I'm tapping off excess ink. I tap the foam onto the ink pad and then tap it a few times onto scrap paper. This removes some of the ink and I am able to control and gently add as much color as I want.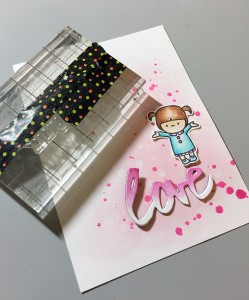 Before I permanently adhere anything, I love to layout some of the elements of the card. I didn't have the perfect sentiment, so I took a stamp and I masked off the words I didn't want to use with washi tape. Then, I inked up the stamp and removed the washi tape BEFORE stamping (if you leave it on, you will have blotches of ink on your cardstock!).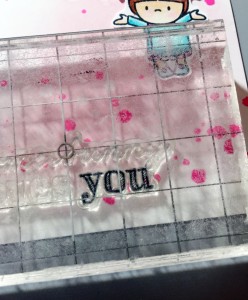 See how in the image above, only the "you" has ink on it? The washi tape protected the rest of the stamp from getting inked up, so I am able to really stretch this stamp set. This set happens to be an Easter themed set, but I am using it for more of a Valentine's card. I love being able to use holiday stamps all year-round!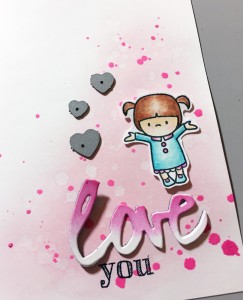 Instead of die cutting hearts and placing them onto the card, we are going to actually cut hearts out of the card. This way, we have something a little more exciting going on with the card AND we have a few die cuts to use for a later project – this is a win-win technique!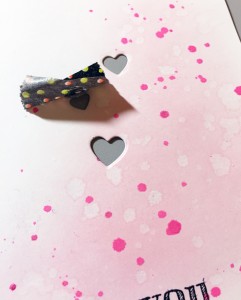 Make sure to add some washi (or other reposition able tape) to the dies – we don't want them to move at all when they run through the die cutting machine.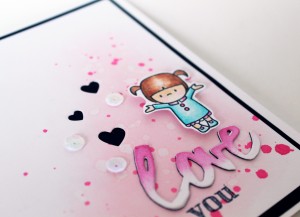 To finish everything off, adhere the "love" pieces together, making sure the black is on the bottom (this helps it pop out a little bit on the card, giving a small drop shadow effect) and the inked up ombre one is on the top. Cut a piece of black cardstock to 4 x 5.25 and adhere to a standard card base (4.25 x 11, scored at 5.5, which is a top folding card). Then, adhere the front panel (that's the piece we inked and die cut). I recommend a very strong tape runner for these steps. After that is complete, simply add the rest of the elements: the little image, the "love" die cut and some sequins. For a little dimension, add the image using foam adhesive.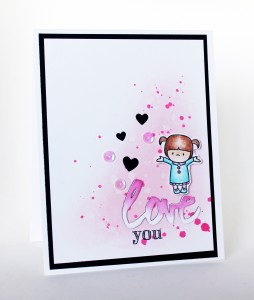 By just utilizing a few simple techniques and adding in a few custom elements, you can still keep a card very clean and simple, without having to worry that it's too simple!
Who's your valentine?