Learning how to cook collard greens is important for any true Southern cook. It may seem daunting to learn how to make such a quintessential Southern dish, but it really couldn't be simpler to learn how to cook collard greens.
There are only a few key ingredients that you must remember when learning how to cook collard greens. Bacon and smoked ham (or ham hocks) are essential for flavoring the greens. Vinegar is also an important addition to the pot; the vinegar helps to make the greens tender. Another important part of making collard greens is allowing them to cook for several hours over low heat.
Below you will find a step-by-step guide for making collard greens, as well as our favorite recipes for Southern greens.

How to Cook Collard Greens
Ingredients
2  bags washed and cut collard greens
1 lb. bacon, diced
two onions, diced
minced garlic
7 oz. smoked ham
2 tbs. apple cider vinegar
32 oz. chicken stock
salt
black pepper
white pepper
How to Cook Collard Greens
    Cook the bacon in a large stock pot for about 10 minutes.
    Add the diced onion and cook for another 8 minutes. The onion should be soft and translucent.
    Add the ham and garlic. Cook for 1 minute.
    Add the stock, vinegar, seasonings, and some of the greens to the pot.
    Stir the greens. As the greens wilt and cook down, slowly add more to the pot.
    Cover the greens and cook for about 2 hours, or until the greens are tender.
Bonus! More Southern Greens Recipes: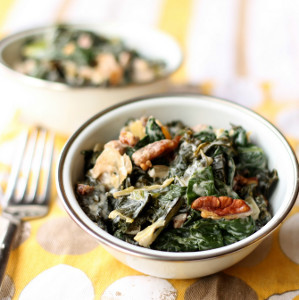 What is your favorite type of greens?