Cooking with ground beef is a great, budget-friendly way to get used to weeknight cooking. There's no shame is admitting that you don't know how to cook ground beef. Maybe you've cooked it, but mainly by guesswork. If you want your ground beef to have the perfect texture, flavor and moisture, it's worth taking the time to learn how to cook it properly.
Ground beef is a universal ingredient.
Once you know how to cook ground beef like the pros do, all of your recipes will turn out much better. Many recipes ask you to brown ground beef before adding it to your casserole, stir fry or what-have-you. It's great to know how to cook ground beef perfectly every time and avoid, hardened, grey beef that no one finds appetizing.
Thankfully, it's very easy to learn how to cook ground beef. When you've tried it once, you'll feel much more confident in your cooking, and enjoy your home-cooked meals even more. Share this guide with friends and family who are brushing up on their basics. We've included tips on seasoning ground beef and the top 17 best ground beef recipes from RecipeLion.com so you can get started right away!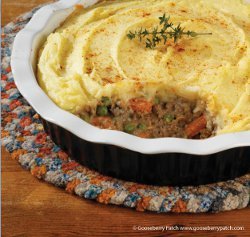 How to Cook Ground Beef
Here's the best way to brown ground beef without drying it out or overcooking.
Spray your non-stick pan with canola oil or olive oil. Turn on medium-high heat and allow pan to warm up.
Place raw ground beef in pan. Allow the underside of the meat to begin to brown for a couple minutes until seared. It will appear brown and crispy.
Flip the ground beef and allow the other side to brown for a couple minutes.
Using a spatula, separate the ground beef into pieces. Spread the pieces out and avoid overcrowding.
Allow uncooked pieces to brown for a minute or two before flipping the pieces.
When there is no pink left, turn off heat and season as needed.
Seasoning Ground Beef
With seasoning, ground beef can be just as delicious as steak. Thankfully, ground beef takes flavor quite well, and with a little extra effort of adding seasonings, you can greatly improve the overall taste of your meal. If you cook with ground beef frequently, seasonings will also add some variety.
Before you rush off to the store, check out these homemade seasonings recipes that can save you a lot of money (and taste better, in most cases).
Here are some basic seasonings that go well with ground beef. Don't go crazy and add all of them – adjust to your recipe.
At the very least, always add some salt.
Fresh garlic or onion are perfect for many easy weeknight dinners.
For tacos or burritos, cumin and chipotle are stand-bys.
For spaghetti, oregano and/or garlic powder.
For chili or Mexican-inspired dishes, Adobo or Worcestershire sauce can add some zip.
For more, read 15 Ways to Make Your Own Homemade Seasonings with Homemade Taco Seasoning and More.
Top 17 Best Ground Beef Recipes
What's your favorite ground beef recipe?