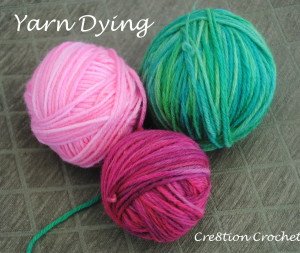 Being the avid crocheter that I am, I am constantly trying to think of new ways to develop my skills, find new patterns to work up, and come up with new ideas to play with yarn. I've realized that when in certain stores, I just can't find that perfect color of yarn that I've imagined in my head. If only I knew how to dye yarn, I could come up with my own fabulous crochet colors. But guess what? I can! Learning how to dye yarn is actually quite simple; it just takes some time. Fiber dyeing can give you the perfect results, but it will only work with animal fibers.
This is the perfect time to experiment with dyeing yarn because every store you walk in is filled with Easter decor. Now, you might be wondering what Easter decor has to do with dyeing yarn. Well, have you ever learned how to dye yarn using an Easter Egg Kit? Whether you have leftovers after the holiday or you go out and buy all the sale kits, this is a really neat way to dye yarn. Those colorful dye tablets can create a beautiful assortment of yarn, just to your liking. We're here to help you with a new skill set today!
Materials:
Animal fiber – Only natural fibers like wool or silk will hold the dye.
Easter egg dye tablets – These are found in Easter Egg Kits.
Citric acid – If your dye tablets do not have citric acid in them, you will want to include citric acid or vinegar.
Container
Water
Heat – You will need to heat the water, dye, acid, and yarn together. This can be done on a stove top or in a microwave.
Rubber gloves – The yarn isn't the only thing that can be dyed. Protect your hands with rubber gloves.
Have you ever dyed yarn? Let us know below in the comments!