Print This Post
Do you love the shabby-chic look? With so many people opting to get married in a barn these days, the down-home country look is definitely in. The fabric of choice for a rustic theme is burlap, burlap, and burlap. The whole country wedding trend has created an explosion of mason jar crafts, outdoor lighting ideas and burlap craft ideas. One of our favorites is burlap flowers. They make such a wonderful addition to any rustic centerpiece or burlap wreath.
We're perfectly happy with this trend, because at roughly $3 per yard, burlap is super cheap! It's a tough, versatile material that makes anything look a little more homey. It also conjures up childhood memories if you ever did a sack race. 🙂 Stock up on this awesomely textured fabric and use it for all kinds of craft projects.
Whatever burlap craft idea you have in mind, it's useful to learn how to make burlap flowers for cute embellishments. They make for a super chic summer style when you're decorating your home. Burlap decor has a rustic, vintage look that's very popular right now. Check out our top picks for burlap flowers and other burlap craft ideas.
How to Make Burlap Flowers and Other Burlap Craft Ideas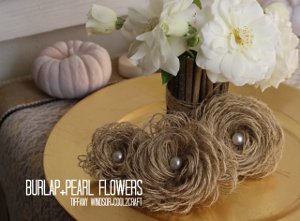 How to Make Burlap Flowers
Materials:
Burlap by the yard
Scissors
Ruler
Aleene's Original Tacky Glue
Pearl stickers (or pearl finish buttons)
Optional – 18 gauge stem wire or wooden skewers (for flower stems)
More Burlap Flowers
Other Burlap Craft Ideas
What's your favorite burlap craft idea?
AllFreePaperCrafts is dedicated to the best free paper crafts, tutorials, tips and articles on paper crafting. From easy card making ideas to complex DIY paper crafts, we find and deliver the best free paper crafts from all over the web. Plus, we feature free product reviews and giveaways of all the latest and greatest products including paper, books, tools, and more. AllFreePaperCrafts is a wonderful online resource for paper crafters of all skill levels.
Print This Post