Let's be real: Roses are obviously one of the most beautiful flowers that have ever existed, right? Like, that's not really a hotly contested issue, is it? Because I love roses. And everywhere I look, I see roses in some shape or form.
While I love real flowers and real life vases of red roses, I've always been a sucker for paper flowers. Mostly, I like the fact that they won't die on me. Therefore, I learned how to make paper flowers at a young age (and that obviously led to learning how to make paper roses).
Before long, I was looking up how to make roses out of pretty much everything, as well as how to seamlessly incorporate roses into craft projects. I may or may not have a problem, but it's a beautiful problem to have, don't you think?
If you love roses and gorgeous paper crafts, then you'll love the projects below. Even if you're not huge on paper crafting, you're sure to find at least one easy project to make. If you don't, I'd be sincerely surprised.
Perfect Paper Roses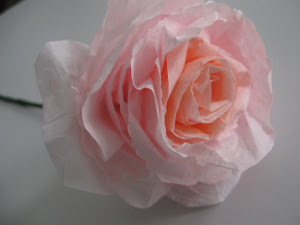 3D Layered Rose
How to Make a Folded Paper Rose
Fabulous Newspaper Roses
Giant DIY Paper Rose Flowers
Graceful Paper Rosebuds Centerpiece
Completely Incredible Coffee Filter Roses (pictured above)
Book Page Paper Roses DIY Project
DIY Paper Rose Bouquet
Quilled Paper Rose Locket
Faux Mulberry Paper Roses
Crepe Paper Rose Bouquet
Beautiful Blue Origami Rose
Book Pages Rosette Tree
Gorgeous Rose-Inspired Crafts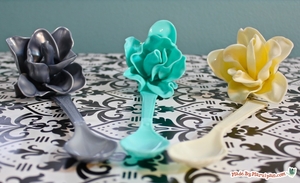 Coming Up Roses Free Knit Pattern
Rose Petal Hair Clip
English Rose Silk Flower Wreath
Lovely Leather Rose Studs
Coffee-Stained Roses
Darling DIY Rose Studs
Plastic Spoon Roses DIY Recycled Craft (pictured above)
Pink Rose Bouquet Crochet Flowers Pattern
Two Dollar Rose Votives
Refined Rosebud Earrings
Sewn Rose Pillow
Scrap Fabric Rosette Barrette
Goddess Rose Crochet Headband
Recycled Record Roses
Wire Rose Ring
Are flowers really not your thing? Maybe our collection of beautiful butterfly crafts will suit you better!
Would you rather learn how to make paper roses or another kind of paper flower? Let us know below in the comments!
Related: How to Draw a Rose