The best way to get your Christmas "shopping" done quickly is by doing it all at home. No, not online shopping; something even more inexpensive, convenient, and heartfelt — handmade jewelry. Instead of spending your time getting elbowed in the side as you try to reach for that last, special-edition tablet, enjoy Christmas gift giving by crafting presents in the comfort of your own home. These DIY jewelry ideas are quick to make, which means that you'll have everyone on your list crossed off in just days. And if you are a procrastinator, it means that you'll be able to delight even impossible-to-please Aunt Sally with only hours to spare. You'll save tons of money, time, and pain by using your talent to make gifts friends and family will cherish.
Whether your recipients are in need of necklaces, rings, bracelets, or earrings, we've got you more than covered with this collection. From the fashionista to your 30-something cousin who needs help pulling it together, there are homemade gift ideas for all kinds of kinds. Since these presents are so budget friendly and simple to make, you may (you will) find yourself making one of each to keep. There's nothing wrong with wishing yourself a Happy Holiday!
Homemade Gift Ideas for Necklaces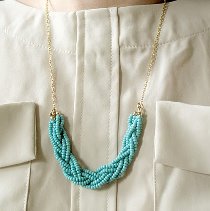 For your fashion-forward friends who need a simple statement piece, you've got to whip up a Braided Seed Bead Necklace. Make these gifts even more personal by choosing your recipient's favorite color. This chic necklace looks like a million bucks but costs nothing near it. I, for one, would love to open a box containing this stunner.
Browse Homemade Gift Ideas for Necklaces
Simple Earrings to Make as Gifts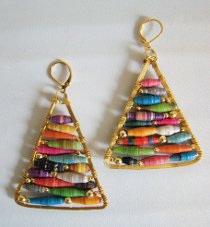 These Anthro knockoffs are brilliant homemade gift ideas because they're brand-name worthy without the price tag. The recipient will love showing off her unique yet in-fashion DIY earrings. Guaranteed, these will be one of her favorite gifts of the season. Don't leave other ears out. Browse through more simple earrings to make as gifts and you'll be labeled the best gift giver since Santa.
Explore More Simple Earrings to Make as Gifts
How to Make Bracelets as Gifts
If you know a family member who's always lacking accessories or a friend who can't have enough bracelets, explore our list of brilliant bracelets to give as gifts. These easy ideas will take you minutes but will give the recipient years of happiness. She can wear these timeless pieces over and over, remembering your kind heart each time. My favorite pick is the Woven Chain Bracelet. It's classic yet trendy, and you can make multiples to match with every outfit.
Find How to Make Bracelets as Gifts Here
Click here for stunning rings and the full collection of homemade Christmas gift ideas!
BONUS! Enter to win the chance to make homemade Christmas gifts for free with the fabulous Nunn Design Summer 2013 Collection. Enter to win a dazzling array of ball chain crimp collectors, cuff links, leather cuffs and cording, screw-back bezels, and traditional adjustable circle rings until November 18th.
How long would you spend making a homemade Christmas gift?