One of the toughest things I've done in the last year or so was probably to learn to crochet. While I was proud of how my first crochet project turned out in the end, the road was pretty rough at the beginning (partially because I started with a beanie and not something simple like a scarf or a coaster).
While I had a pretty great teacher who was more patient than me than I deserved, it was still pretty difficult to learn to crochet because I was going it alone at home for a lot of the time. There was only so much that I could accomplish at work before I wanted to pick up my hook at home and continue on. However, whenever I ran across problems, I had to consult the internet in hopes of finding answers to the problems I was having.
In order to keep other people from having the same issue as they learn to crochet, I thought I'd throw together a quick list of tips and how-to's to help them complete some easy crochet patterns. Whether you're working a few one skein wonders or more involved crochet projects, I hope you find these tips and tutorials helpful! Consider this your crochet index!
Basic Crochet Stitches
Learning the Crochet Stitches – Covers all of the building blocks!
How to Crochet a Chain Stitch and Single Crochet
How to Double Crochet
How to Crochet the Magic Circle
Crocheting a Picot Stitch
How to Crochet in the Round
How to Crochet a Basketweave Stitch
DIY Shell Stitch
Tunisian Crochet Stitch
How to Crochet a Cable Stitch
How to Crochet a Checkerboard Stitch
Tips Every Beginning Crocheter Needs to Know
How to Read Crochet Patterns
How to Crochet: Choosing the Best Crochet Hook Sizes
How to Cast Off and Hide Loose Ends
How to Start a Skein of Yarn
How to Crochet Left Handed – For all you lefties out there!
The Do's and Don'ts of Crochet
Other Helpful Tips and Tricks to Help You Learn to Crochet
How to Crochet a Granny Square
How to Color Change Without Knots
How to Join Granny Squares
Types of Yarn and Yarn Weight
Sizing for Various Items
How to Increase and Decrease Evenly Across a Row
The History of Crochet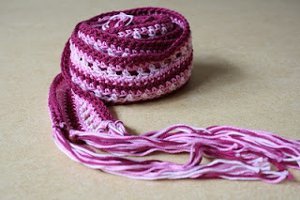 Now that you're better versed in the ways of crochet, check out Learn to Crochet: 25 Simple Crochet Patterns for Beginners and put your new skills and lessons to good use!
What's the best piece of advice you would give to someone trying to learn to crochet?