It's easier than you think to give your kitchen a new look without breaking the bank. These low-cost kitchen crafts are the perfect way to save money on kitchen decorations and supplies. With these fun craft projects, you can easily spruce up your kitchen with homemade dishcloths, coasters, place mats, and more.
To make sure that you never miss another budget project or recipe, click here to find out how you can sign up for our free Cheap Eats and Thrifty Crafts newsletter. With just a few clicks, you can have projects and recipes like these delivered to your inbox every week!
1. Homemade Scrubby Mitts – There's no need to spend your money on expensive store-bought cleaning solutions when you can make your own at home. Dish washing is made manageable with these mitts. You can even knit up a pair as a housewarming gift!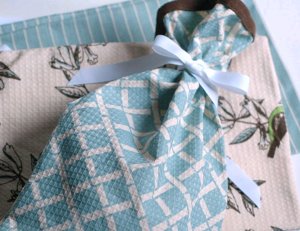 2. 5-Minute Bread Bag – Keep you kitchen counter looking tidy by keeping your bread in the 5-Minute Bread Bag. In mere minutes, you will have a pretty, practical, and handmade solution for keeping bread fresh.
3. Easy 10-Minute Coasters – These beautiful and brightly colored coasters are the perfect way to help your update your kitchen from drab to fab. As an added bonus, they only take 10 minutes to make!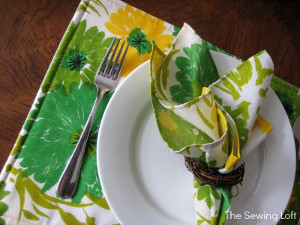 4. Retro-Inspired Place Mats (shown) – Protect your table with these homemade, retro place mats! These place mats will give your dining room a fun and funky feel.
5. Beginner's Vintage Apron – Even if you are a beginning sewist, you will be able to tackle the Beginner's Vintage Apron.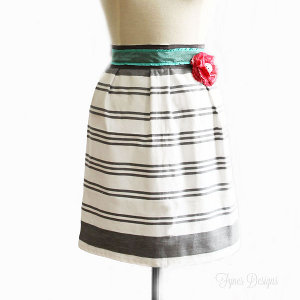 6. 10-Minute Apron (shown) – This quick and cute apron is the perfect accessory to help you protect your clothes when you are cooking or baking up a storm.
7. Easy Knit Sponge – If you are looking for an easy project that is also a huge money-saver, make your own Easy Knit Sponges!
8. Flower Power Tea Cozy – Keep your pot of tea warm with the Flower Power Tea Cozy. This adorable knitting project will give your kitchen a touch of whimsy.
What is your favorite kitchen craft? Let us know below in the comments!