It can get expensive eating out for lunch all the time. The gourmet coffees and made-to-order sandwiches seem like unimportant purchases at the time, but when you put them all together, it really starts to add up. Small changes in your purchase habits can really add up to big savings over time, which is why we want to show you some of our favorite budget-friendly lunches you can bring to school, work, or wherever!
Homemade Sandwich Recipes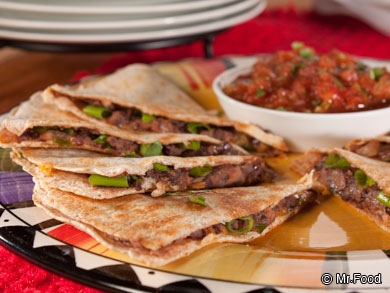 Across the Border Quesadillas (shown above): These easy-to-make quesadillas use black beans instead of ground beef, not only saving you money but saving a few calories as well! Make them in the morning and reheat them during lunch for the ultimate fiesta.
Cheesy Tuna Melts: Tuna is one of our favorite budget-friendly ingredients. Not only are the cans themselves inexpensive, but it's easy to stock up your pantry whenever there's a big sale. They'll keep for a long time! This cheesy favorite will fill you up and rejuvenate you for the rest of the day.
Farmstand Quesadillas: Quesadillas don't always have to be spicy! Put all your favorite veggies to use by making this fun medley. It's a great lunch recipe to use if you've got leftover veggies from making dinner the night before. Throw 'em all in and customize the sandwich just how you like it!
Veggie-Stuffed Pitas: Cheap, homemade lunches are made even better when you put this Greek favorite to use. This recipe only uses five simple ingredients, but feel free to mix up the fillings until you get the exact right combination.
Homemade Soup Recipes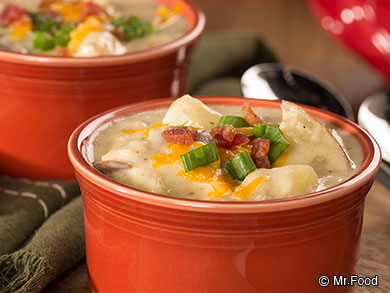 Baked Potato Soup (shown above): Potatoes are an inexpensive veggie that quickly fills you up! Make a batch of this comfort food favorite and store it in a canteen to bring to work. We bet your coworkers will be clamoring for a tiny bite!
Broccoli Cream Soup: Pull together this vegetable medley for a healthier comfort food soup option you're sure to be making often as the weather starts to cool.
Roma Tomato Bisque: Tomato soup is light on your budget, which makes it the perfect kind of cheap, homemade recipe to pull together for your weekday lunches. We love topping this one off with salty crackers too, so be sure to have a few on hand!
Bonus: Light Salad Recipe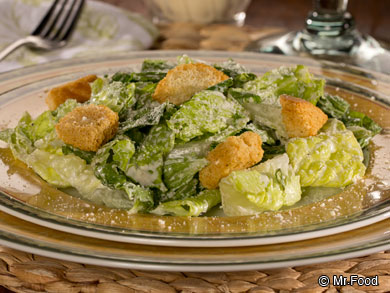 Lighter Caesar Salad: We've lightened up a lunchtime favorite, making it the perfect healthy dish to eat either on the side or as a meal in and of itself. Our homemade dressing uses plenty of ingredients you've probably got lying around the house already, so you won't even need to make a special trip to the grocery store.
Plus, if you're looking for easy recipes for next-day leftovers, make sure to check out our collection of Healthy One-Pot Meals!
What's your lunch routine usually like during the week? Let us know in the comments below!